3 More Days to Santiago
I left this morning at 7:45 and the weather is starting to change. It's quite overcast and very humid. So I expect we might get some light rain later in the day.
Camino Friends
Just as I was leaving Palas de Rei, I bumped into an old friend, Bob from the US.
It's always nice to see familiar faces along the journey. That's why I tend to sit and have breakfast right on the Camino, to see who's coming through.
Bob and I walked together for about 20 minutes, until I needed to let him get ahead. Bob is 15 years my senior but by far a quicker walker. We parted in the hope that we will see each other in Santiago.
About an hour later, I bumped into Anthony from Australia. (we first met in Belarado) We caught up for coffee and exchanged news on people that we knew, how far they've got and the problems that they have had along the way.
Then of course Anthony needed to get on in a much faster pace than me.
Today is very pleasant, walking through pastures and forests along a very trail.
I think I managed to get away before the morning rush hour. So the hordes of local 'tourigrinos' haven't quite caught up with me yet.
Again, I'm feeling a little bit impatient, and wanting to get on and get to Santiago in a shorter time.
But I realise to do so may jeopardise finishing the journey. I'm trying a new strapping on my shins today which seems to be helping.
A bit of Self Taping 🙂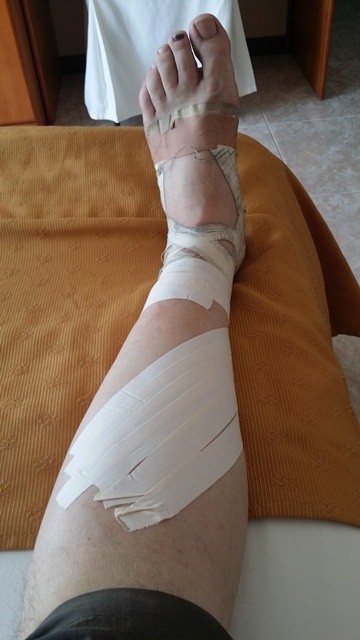 Final Camino Days
I'm trying to use these final days to process my thoughts and key lessons from my journey.
But the journey seems to have been so long, it's not always easy to remember everything that has gone before. Part of the reason for this Blog) But hopefully the key lessons will stand out.
I think I'll use my time in Santiago before heading home, to finally collect my thoughts and think about how to take these lessons forward.
Perhaps I might even maintain this blog with a monthly update on how things are going?
It'll be interesting to see if I can manage to maintain the changes that this Camino has brought to me.
Everyone walks the Camino in their own way
In this final hundred kilometers, it's interesting and at times amusing seeing how some people approach their journey.
This morning, I was overtaken by large groups of Americans and Germans who when they arrived in the next village, had their support vehicles waiting for them with a picnic table set up.
Try as I might to understand that everybody undertakes their Camino in different ways, sometimes it's difficult 🙂
I think for the remainder of the day, I might resort to putting my headphones on and putting on some relaxing music and isolating myself from the rest of humanity 🙂
Making a better present
As I continue to walk these final stages of my Camino, I can't help but reflect back to weeks 2 and 3.
These were the most fulfilling physically, emotionally and spiritually. And since then, things seem to have plateaued.
I think back to the days of walking out of Granon and across the meseta in isolation and solitude, and long for those days deep in thought and reflection.
These final days are so much more difficult. Not just for the crowds, but they seem to be on a different journey totally.
I just stopped at a beautiful 12th century church for a moment of reflection, and was surrounded by babbling Spaniards who seemed to have no respect for the house that they were in.
But I think perhaps this is merely another lesson……
We can't live in the past, we can't go back to those times that we enjoyed, and we can't live our lives reflecting on memories.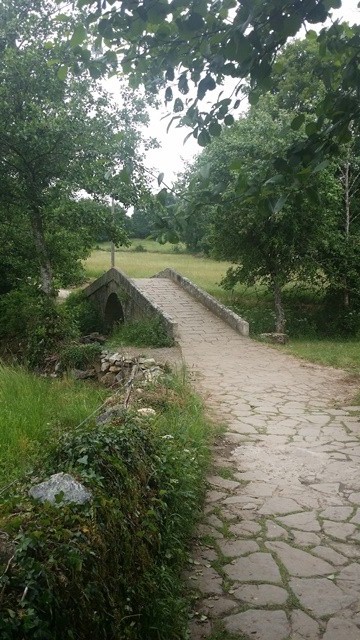 I think the lesson is to enjoy the present, and enhance the present as much as we can.
To remember those feelings of great joy and happiness, and to bring them into the present and enrich the current day.
A Camino Moment and a useful lesson
As I was walking this morning amongst the larger crowds during this stage of the Camino, I felt myself resenting the mass of humanity that I find myself in.
I know that it's not right to think like this, because some people don't have the luxury of taking 6 weeks like I have to walk the Camino.
And others for whatever reason, may not physically be able to do so.
I told myself that I needed to not feel like this and make an effort to actually engage with some of the new pilgrims on this section.
It's funny how things happen when you walk the Camino……..
I started chatting to a couple of American ladies who were obviously being supported in their walk, because they were only carrying tiny backpacks.
We were chatting idly walking into the next village where they invited me to stop and have a drink with them.
We joined the rest of their group which included a gentleman who had severe physical difficulty in walking and was almost blind.
He was taking the opportunity to walk whatever distance he could each day and then be driven to their night stop that evening.
Chatting with him over a cup of coffee, he told me how he had walked over the Pyrenees with his wife to guide him.
It's funny how the Camino throws these lessons, sometimes slap-bang into your face.
Another great lesson learnt…..