Walking to Leon
Today was not easy. For many reasons.
(Note, Post Camino I added a Camino 'moment' at the bottom of this page)
Some of those internal struggles have resurfaced, and took up much of my thinking time today.
But also of concern, was the physical.
About 5 kilometers from Leon I started getting pains in the front of my shins. Oh no, I thought, not shin splints!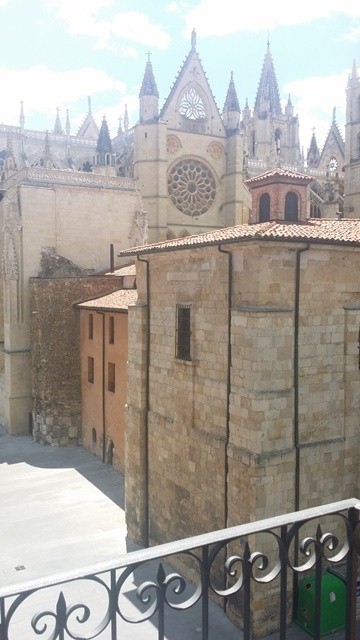 The last couple of hours into Leon were very slow and painful. Thankfully now I have a day of rest to try and fix this new challenge.
En Route to Leon
A gentleman in the local farmacia suggested rest and ice. I'll also try to find a physio on my rest day. Let's hope that I will be able to continue.
I was thinking today about those we leave behind when walking the Camino.
For whatever reason, they are not able to make the journey due to other commitments,  or perhaps are not drawn to it in the same way.
Whatever hardship and challenge the Pilgrim faces, these are often minimal compared to those left behind…..
Almost every day, I ponder on this,  and recognize that there are places that I might rather be…  people I might rather be with.
But something inside me tells me to go on, if only for another day.   Perhaps there is one more lesson I need to learn. ..
Without the support and sacrifices made by Pat. ……. I would not even be here.
Every day I acknowledge that……  we talk daily 🙂
My part in this journey is the easy/fun bit!
A Camino Moment.
I have been re-reading my Blog recently.  It's amazing the things you forget, so it's fun to read back over some of the details.
At the time I was walking there were a few 'moments' that occurred, that I didn't feel comfortable sharing.   But maybe they are an essential part of a Camino. so what the heck.  Here is one from that day.  The final stretch into Leon.
It was about 2 hours out of Leon……. (the short version)
I'd hit a real low point. I really felt my Camino was coming to an end. That I needed to go home. That it was selfish to continue this journey. I was struggling, really struggling.
I just stopped at the side of the path.
I dropped to my knees. I grasped a rosary that a Catholic friend had loaned me, as I did each day when saying my thank you….
I looked up and asked. "OK. How is this supposed to work? Do you give me a sign or something?
I'm really struggling with this decision. I feel like I should go home. But should I complete this journey? Over to You………."
Not really feeling any better, I stood up and continued along the path…….

ONE.
After about 300 metres, I saw an old man with a dog walking towards me. He was stooped a little, probably about 70 years of age. He looked a bit like a Shepherd.
As we got closer, I glanced up. Looked at him and said Buenos Dias. As he replied he smiled and our eyes met.
A chill went down my spine and I stopped in my tracks, as he walked past. After a few moments I turned to look the way he had gone. He also turned and gave me a wave.
The hair stood up on the back of my neck. During that brief greeting and warm smile, the eyes looking back at me were unmistakable.
They were the loving eyes of my late Father.
Wow. What just happened I thought….. That was as very clear encouragement, from above, from beyond? Who knows? But it was Dad behind that smile! 100%…..

TWO.
As I was reflecting on this potential 'sign' I started up a small hill. I paused for reflection and to take a drink. Not 300 metres beyond where I had seen the man.
My phone rang! Due to the problems at home I made sure I was easily contactable. Though no one normally called me. I usually checked in with them when I could.
So most days I spoke to my wife, by calling her, not her calling me..  (The issue at home was….. that her Father was very sick….)
It was my wife. Her voice was really upbeat and lifting. I asked her how her Dad was, and that I was thinking I should come home. No way she said! How can you help anyway? You're not a Heart Surgeon! Finish the journey 'for us' she said…..
I so needed that call. That call. Right then………
Feeling much better, I now quickened my step towards Leon. Surely only another hour away.

THREE
With a bit more of a spring in my step, I started off along the gravel track….
Not two minutes later. I heard a familiar voice behind me. An Aussie Twang…..
"Hey Robo, how you're going mate"!
It was Rob from Melbourne whom I hadn't seen in well over a week. A chirpy character with whom I'd shared some long and deep conversations whilst walking and over a glass or two of Vino Tinto…..
He clapped me on the back as he came level and we shared our journeys of where we'd been and who we'd seen since we last met. His pace was faster than mine and it was a struggle to keep up…., with my achilles injuries. But I needed this connection.. ….. Right now I needed it.
So I quickened my pace for 15 minutes or so whilst we chatted and then bid him farewell, expecting to see him down the track at some stage. I did, about 2 weeks later……
I paused for a moment as he 'took off' down the track with effortless long strides……
What the heck had just happened!!!!!
In a time of need I had asked for guidance. And in the space of 5 minutes, I was given a sign. One…..Two…..Three!
Amazing things can happen on the Camino………
P.S. My next Camino I'll be walking for Dad.  It was something my brother Dave told me that prompted the thought.
(My 2016 Compostella has my Dad's name on it…)