Leaving Pamplona
Today I leave from Pamplona up over Alto del Pardon to a small village called Uterga. It's a bit of a climb today, so I don't want to overextend myself. So today should be about 15 kilometers.
I woke up at about 6:15 this morning, I actually got more sleep than usual, which was great. Although I was woken by the noise of the street cleaners, as their machines were driving up and down the small alleys outside the hotel.
After a hearty breakfast, I set out through the city, back on the Camino, the first 5 kilometers of which today is through the city.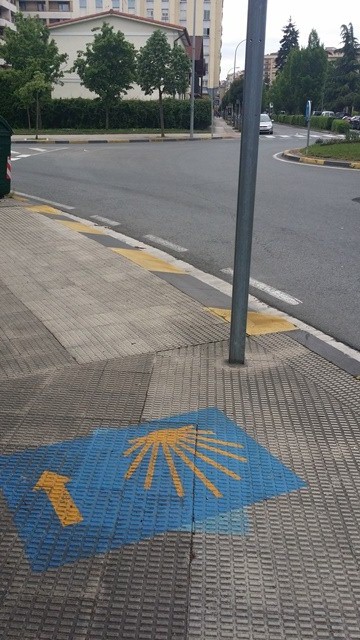 On the way out I was curious to look at the route that they use for the running of the bulls. I saw it, done that.
The thing that amazes me is the amount of rubbish in the city after a Saturday night of reveling. It seems that the local people really don't care too much about what they throw on the ground in the way of bottles, plastic cups, cigarette ends, and a whole army of people seem to be out cleaning the streets this morning.
I thought a lot of pilgrims might be having a stopover in Pamplona, and that the walk this morning could be rather lonely.
In fact there's quite a few people on the road already.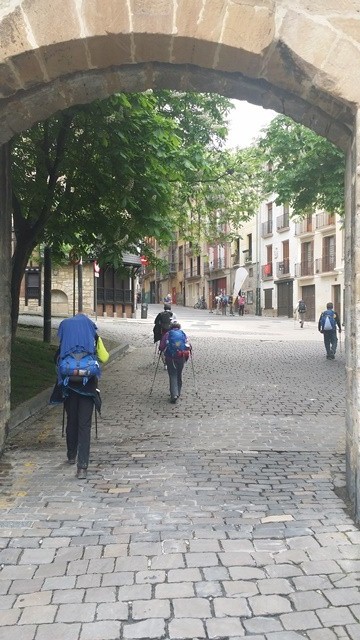 I'll be glad to get out of the city in the next hour and a half or so into the fresh air of the countryside again. And start the climb up towards Alto del Pardon. Although I think before I start the climb, a café con leche in the village near the bottom would be most welcome.