One of the things that I realised in researching walking the Via de La Plata is that you have to be much more careful about water management, and to a degree, food management. The reason for that, of course, is that the infrastructure is much more limited and generally you need to expect most days that you will have to carry all of the water and food that you need for the day. That certainly is my take on it. If there are intermediate villages during the day where I can stop, you know, that's a bonus, but the reality is you need to be able to manage food and water for the whole day.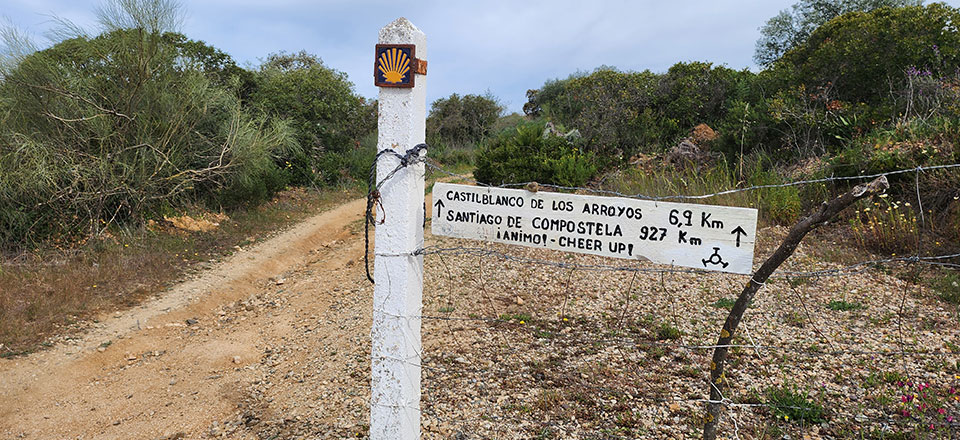 So as an example, I had a couple of warm-up days. These first few days are very much about just sort of shaking down, getting used to walking again and checking out the gear.
Today was from Guillena to Castilblanco, which is 18 km. Not a particularly long day for most people, I know, but that's sort of an average day for me at this point. I try to keep it under 25. So, what did that mean? Well, in terms of water consumption, I know from previous Caminos that one liter of water will last me 10 km. That is a pretty good rule of thumb. At a push, if the weather's warm and I put up my umbrella, I can squeeze another 10 or 20% out of that, if I have to. I mean, if it's really hot weather, I'm going to have the umbrella up anyway, but 10 km per liter. That's pretty much what I do.
In preparation for the walk today I made sure I had two one-liter bottles of water. And I'm actually putting those on the front of my pack so that could be a little bit like balanced pouches. More importantly, though, it allows me to see exactly how much I'm drinking, and I have a tube system so I can sip as I'm going along. I don't have to stop and consciously think about taking on water. I can just sip as I'm going. And I can see right next to me how much I'm getting through. So, with 18K's today, let's call it 20, I know, for example, that I can drink 1 bottle by the halfway point, and I need to make sure I got another bottle for the second half because it's getting warmer in the afternoon. I'm actually going to conserve a bit in the morning and keep more for the afternoon. But even so, as I set out this morning, I'm thinking, "well, you know, that's my comfortable limit, but what if I end up drinking more?". Yeah, I'm ultra cautious with these things.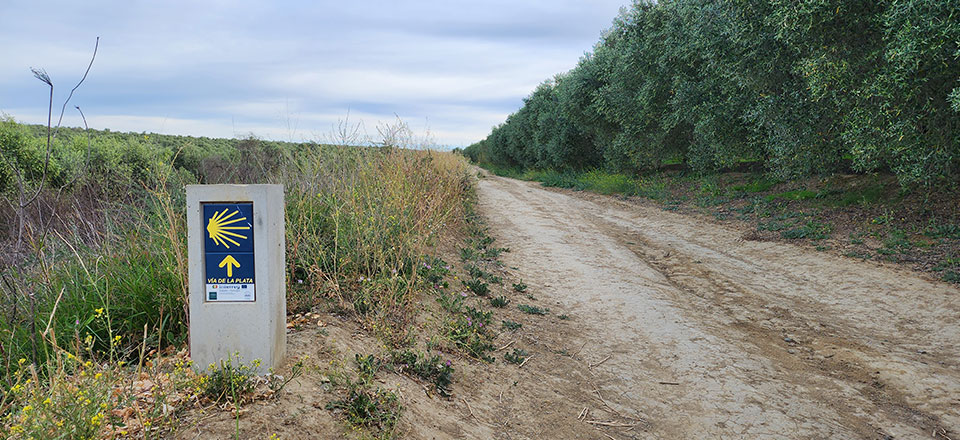 As I was leaving Guillena, there was a petrol station and I didn't drink a lot of water before I left, which was foolish. I had orange juice and coffee with breakfast, but I meant to take on board quite a bit of water. I stopped at the petrol station and brought a half-liter bottle of water and just guzzled the whole thing. That sort of hydrated me a bit as I'm underway. It seems to be working really well. I'm past the halfway point, I'm monitoring the water, I've got plenty left. I've got over a liter left for the second half of the journey.  
The other interesting element, and if I can find the links I'll put them down below, is around nutrition. I found an amazing YouTube channel where a guy had researched nutrition, hydration, and the use of electrolytes for through-hikers. I found that really fascinating stuff and some of the big standouts for me were that carbs are not necessarily your best friend for energy on long-distance hiking. Carbs will get you going for the first hour or two and then they're going to turn into glycogen, and sugars, and fuel the muscles for the first couple of hours, but they're going to burn off. The long-term energy it seems comes really from proteins, fats, oils, that kind of stuff. I'm trialing that on this one. At a break, for example, an hour ago I made sure I had a cheese roll and I put olive oil in it. I'm getting the bread for the instant sort of sugar hit and then the proteins and fats for the longer burn. And you know, maybe it's in my head, but I have to say within about 15 minutes or so, I felt like there was a bit more energy in my muscles.
The other thing I'm trying is salt sticks, which the same channel was recommending. These are not just salt, but they are a particular tablet designed for, I suppose athletes. They have a really good mix of electrolytes and so on in the tablets so you don't really have to worry about how much you're taking. Again, it might be my imagination, but I've been taking these every couple of hours and I'm not getting the muscle pain or the tendon pain that I normally would. So, I'm making sure that I'm hydrated. Then I'm fueled and I've got the right electrolytes and, touch wood, it's working out pretty well.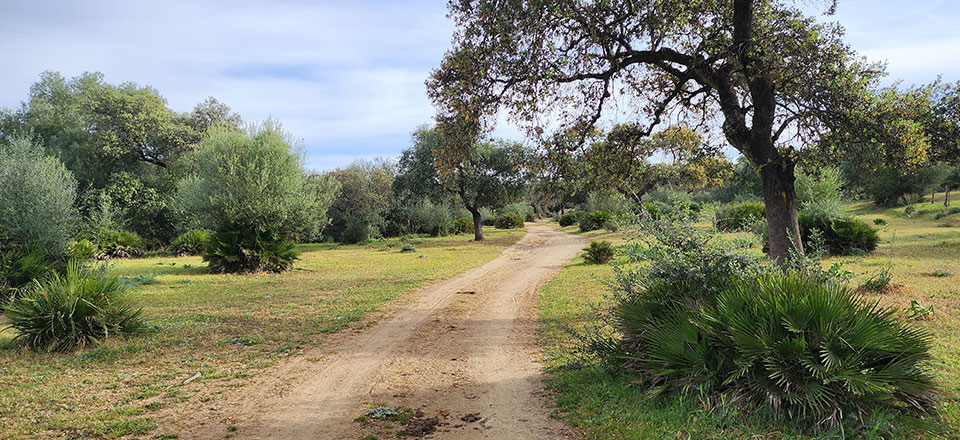 If you have walked some of the Caminos with much more infrastructure, you'll know if you're planning the VDLP that you've really got a plan ahead each day and think about how much water you're carrying, how much food you're carrying. I think the important bit for me is not just the quantity but monitoring it as you are going. The other thing is, of course, there can be a tendency to carry too much.  
And it's interesting the section today is 18K's with you know nothing from start to finish. When I first walked the Camino Frances that stage out of Carrion where it's 17 km without water, and it kind of freaks everyone out. And I can remember I was carrying three liters of water on that section. Well, you know, this is 18K. It's a relatively short section with no water or anything and I'm carrying sufficient two liters. I don't need to carry three, that's an extra kilo. So hopefully my 10 km per liter will work out for the rest of the journey.