An Emotional Pause at the Cruz de Ferro
And another Camino 'Moment'
After a very pleasant walk up from Foncebadón in chill morning air, I reached the Cruz de Ferro before the main crowds, which was nice. There were a few people there but it wasn't too noisy.
I was already prepared for the fact that the atmosphere around the cross would not be quite like that of a church. When visiting the Cruz de Ferro, you really need to shut out what others are doing around you and perhaps some of the noise. Whilst you go through whatever you have planned to at the cross.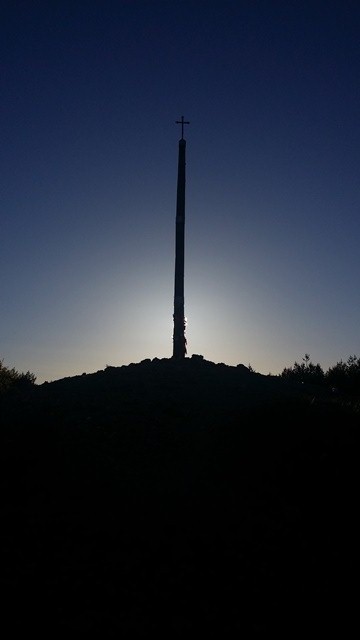 I felt like I wanted to hang around there much longer, I stayed for half an hour, taking pictures and videos, but then it was time to move on.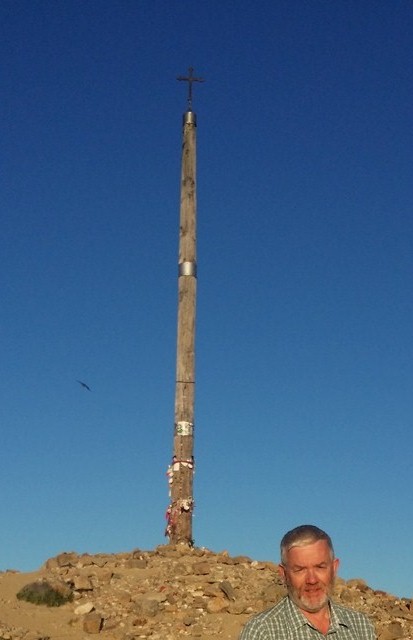 On now with the tricky part of the day, a very steep descent down into Molinaseca. 
Another Camino Moment
On re reading this page I remembered a very emotional moment at the Cruz de Ferro.  I've started adding some of these 'moments' to the Blog, as I think they are a essential element of the Pilgrims journey.
I got there quite early to avoid the crowds that I presumed would build up as the Pilgrims who had stayed lower down in Rabanal, would be making their way up.  Foncebadon was only about 30 minutes away.  One of the reasons I stayed there.
There were probably only 6 or 7 Pilgrims when I arrived at the Cruz de Ferro (Iron Cross)
I took a while, just to pause and soak in the scene and the atmosphere.  I was here, actually here……..
I had brought my stone from our garden at home.  And another I had picked up along the way for my wife Pat. and others for my four children.  OK, they were not big stones 🙂
Once the other Pilgrims had climbed up to the Cross and had their reflective moments and taken their photos, I saw a suitable pause for me to ascend the huge mound to the base of the Cross.  There was a well worn path across the mound of stones to the base of the Cross.   I walked up slowly having left my pack and poles propped against a fence.
Whilst there were other Pilgrims around chatting and laughing and taking pictures, I was in my own little World.  I didn't hear or see them.   This was 'my' moment.
I knelt at the base of the cross, already feeling the emotion of the place.  Holding the Rosary that a good friend has loaned to me I recited the Pilgrims Prayer….
'Lord, may this stone, a symbol of my efforts on the pilgrimage that i lay at the foot of the cross, weigh the balance in favour of my good deeds some day when the deeds of my life are judged. let it be so.'
I dropped my stone onto the pile at the base of the Cross, before saying a short prayer on behalf of others and dropping their stones.
I was about to rise to my feet again………but I couldn't.
It was as if a gentle hand was holding me down in my keeling position…..for a reason.
I had this feeling of almost being questioned……. "and have you forgotten something"?
And indeed I instantly knew that I had.  So I paused for a moment to give thanks for this reminder and to make a promise.
Quite what that promise was is deeply personal and not to be shared here.  I'm sorry.
I walked down off the mound quite shaken by what had just happened.  In a good way.  I didn't want to leave that place.  I could have stayed all day.  I hung around taking photos for a while longer and then knew that I needed to continue.
This had been an amazing and very emotional part of my Camino so far.  But I knew that other such moments probably lay ahead.  I just needed to look for them……and be open to them………….