The Camino Improves my Patience
This morning was a different start, because I was able to have a nice breakfast in the parador in which I had been staying.
But it didn't feel the same, because I was in a dining room full of aging American pilgrims who seem to be doing the Camino via bus.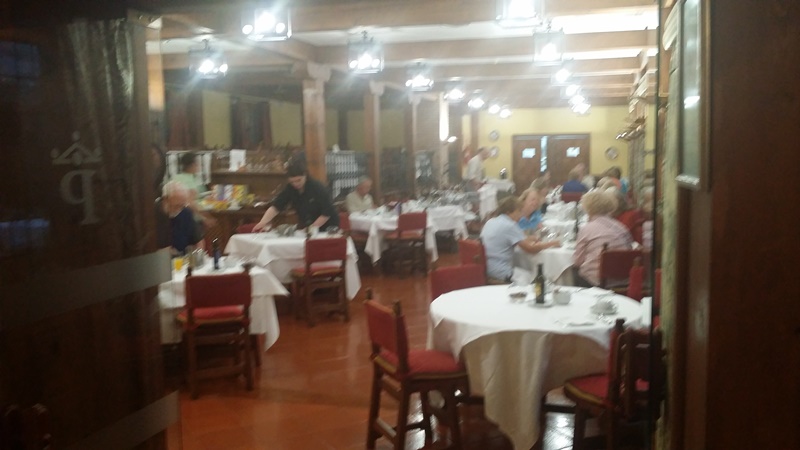 I prefer to be having breakfast out in a street cafe with my Camino family, as I normally would.
This morning I sat alone.
The staff at the parador helped me book my accommodation at Atapuerca for tomorrow.
Whilst I'm staying at Belorado tonight, I was having problems trying to find accommodations for the following night.
So I spent an hour with the reception staff ringing around a few different places before we finally found one.
I finally hit the road at 9:15, and set out well behind the main wave of pilgrims.
A clear road
Frogs
Taking the time to book my accommodation for Atapuerca was well worth the wait. As that takes my mind off where I'm going to be sleeping tomorrow and I can relax in my walking today.
I set off for Belorado across the bridge and according to the Brierley guide, I have to be very careful to watch for the markers.
After a kilometer, I stopped, I couldn't see anymore markers.
There seemed to be a large group of pilgrims coming behind me so I hung back for a while to see if they knew where they were going.
It seemed to be a gaggle of about 20 Spaniards who were all heading straight off down the road and so I tagged along behind them.
Within a couple of hundred meters, I saw another Camino sign and I felt confident enough to stride out ahead and finally be on my way to Belorado.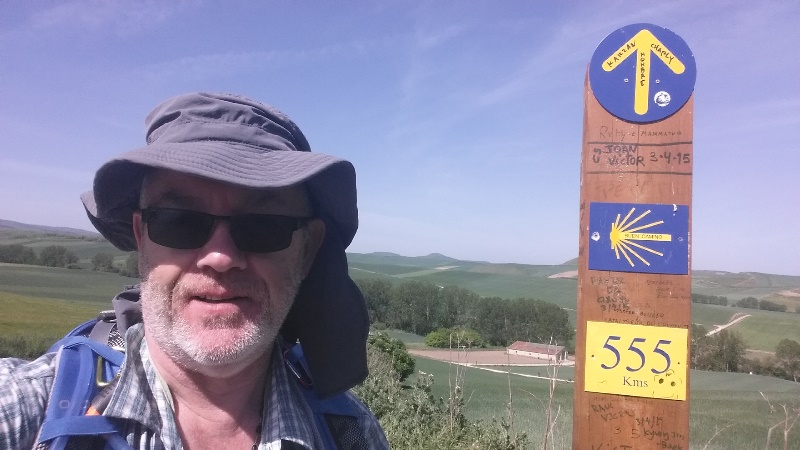 It's another bright sunny day so I'm going to have to watch my water consumption.
I should hit the first village within an hour and a half and there I'll stop for my customary café con leche and check water levels before continuing on.
It's interesting how the Camino family changes shape as you continue along your way.
You start walking with familiar faces, then some stop for a break and some move on. But inevitably, when you get to a new stopping place, there are always familiar faces around.
I had a very pleasant dinner last night with an American lady, an English couple and another Australian couple. All of whom I have met off and on over the previous days.
So it looks like we might be having another dinner again together in Belorado tonight.
This continuing changing of the Camino family or, as someone else put it, your Camino Amigos, is a charming element of walking the Camino.
It's always interesting when arriving in a new stopping point to pull up for a coffee or a vino tinto and just relax and see who else is arriving in town that you know.
But for now, it's head down and let's get on with the walk to Belorado.
Saving Pilgrim Susan
Just as an illustration of the support and community spirit that you'll find on the Camino, let me tell you about Pilgrim Susan (name changed).
At dinner last night, the topic came up of a lady who was travelling with an older gentleman companion.
Everyone around the table had seen them and all remarked how the gentleman seemed not to be a gentleman.  I mean……….it was that Obvious!
He always seemed to be abrupt and quite rude with staff in the restaurants and coffee stops. And he also seemed to be very controlling in terms of his companion, Susan.
As the discussion continued and the pilgrims around the table raised their concerns about Susan, other pilgrims who were passing joined in on the conversation.
When they said, "Oh, who are you talking about?" and we described the situation, every single one of them said "Oh, you mean the guy from xxx?"
We all committed to keeping an eye out for Susan and if appropriate, having a chat with her to see if she was okay.
I even heard that there was a group of ladies a day ahead of us whose mission was to Save Susan! 
Without wishing to interfere, and promising to treat matters delicately, it just shows how the spirit of community and mutual support and looking out for each other is so powerful when you're walking the Camino.
So if you are worried about friends or your kids traveling on the Camino on their own, don't.
They will be amongst a hundred or more brothers and sisters, moms and dads, grandmas and grandpas who will be looking out for their welfare.
N.B.   If you are worried that everyone is watching you and talking about you.  Don't. People on the Camino are doing their own thing and are not intrusive. This was the only occasion I heard this type of talk.  And it was purely out of concern for another Pilgrim's well being. And because the guy was a complete 'stand out' JxxK. 
Not far to go
Today has been a glorious walk, I've had the track to myself most of the day. But it's been really hot. So again, I'm totally wrapped from head to foot, with a wide-brimmed hat, a flap down over my neck, long sleeved pants, long sleeved shirt, gloves and it's feeling a bit like a sauna.
Water management is proving to be important again today.
I think I've probably gone through 2 liters of water and a sports drink so far.
The problem with the water bladder again of course, is that I can't see how much is left in it without taking off my pack and checking.
But I've already topped it up once so I suspect I have at least half a liter in the bladder. And I have a 500-milliliter emergency bottle.
I promised myself that if there's another village before Belorado, which I think there is, that I would drain the bladder before getting there and then fill it up at the village.
As I round the corner across the hill, indeed there's the village that I expected, about 5 or 6 kilometers from Belorado.
I'm about to drink my fill on the way down the hill. In the village, I'll top up the bladder with another liter of water, and probably stop for a cup of coffee and a chat with any other pilgrims who are there.
This has been an interesting test for tomorrow, because tomorrow is 30-kilometer day. This is necessary because I couldn't find any accommodation other than at very short distances. And I didn't want to cut the day so short by only walking 10 kilometers.
I'm going to start really early tomorrow and have at least two long breaks with my boots and socks off. And I have to make sure that I drink loads and loads of water.
Right now I've done about 18 kilometers. At this point tomorrow, I still have 10+ to go. That is going to be interesting!
Water Management
Well that was another interesting lesson in water management.
I got to Villa Mayor del Rio having emptied the water bladder in my pack. Only to find there is no shop open, and the local people said the water in the fountain was not safe to drink.
Also the fountain had a non-potable sign on it. I'm not going to take a chance in getting a stomach bug with using non-potable water.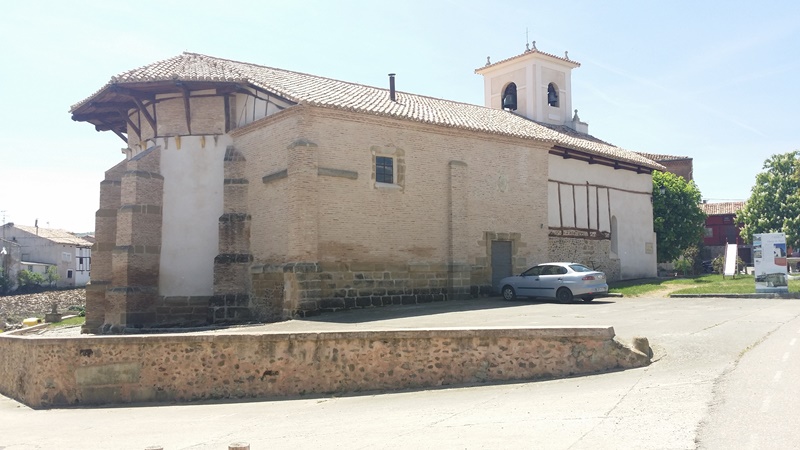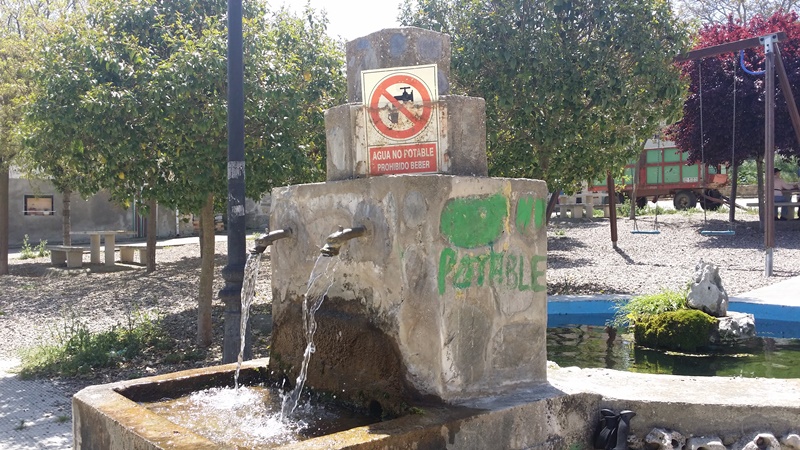 So I checked the map, I have 5 kilometers to go until Belorado and the place that I'm staying is on the near side of the town so maybe I've only got 4 1/2 kilometers and I'm down to my 500-milliliter emergency bottle of water but I feel quite well hydrated, so I should be fine. Let's go.
Meeting Wrenchy
Re-reading this blog I was reminded that it was just outside Belorado that I first met Paul a.k.a. 'Wrenchy'.  He won't mind me relating our meeting I'm sure.
I was about 1 km from my lodgings for the night I think.  It had been a long hot day…and I was very low on water, as the last font was not drinkable.  Down to my last 'emergency' bottle I think with  about 300 ml left.
This final stretch was a long and dusty gravel path beside the road.  Up a gradual incline and then down. Down I hoped; into Belorado.   I was looking forward to a cold drink or three!  And I knew my lodging was 'this' side of town for once!
I spotted him from a couple of hundred metres.
Perched atop a concrete fence post.
A veritable 'man mountain', hunched forward in obvious discomfort.
As I drew closer, I could see that indeed Wrenchy was a big guy.  A rugby player in his youth as I discovered later, and now a staunch supporter and one man cheer squad for his local team.  But right now, this man did not look in the best of health.  His shirt was drenched in sweat.  His face red with exertion.  Beads of sweat running down his face.  I was honestly quite worried about him.
I stopped.  Are you OK?  Do you need some water? 
No No, I'm fine he replied.  I must have at least 2 litres left in my pack.  Do you want some?
Fine Huh…..
Are you sure you're OK I asked again.  Finding some comfort in the fact that we were very close to the next town.
He looked up with a big grin and remarked….Sure I'm fine.  I always look like this!   Don't worry…..
And he did…..always look like that 🙂
Wrenchy and I bumped into each other a few times after that.
There was another chance encounter and breakfast in Hornillos, a dinner in Carrion, a lunch in Leon….and brief stages of actually walking together.
That's the way of the Camino.  Chance encounters, that sometimes you suspect are not really by chance at all, but some kind of 'fate', as hundreds of Pilgrims flow along the Camino.  You seem to have so many chance encounters with people that you instantly 'connect' with.
This was yet another great encounter with a man of tremendous 'heart'.   Wrenchy was walking with some considerable Camino injuries along with pre camino conditions that did not make the journey easy for him at all.
And….he was walking for a local charity……   Good on Ya mate 🙂
The last email I got from Wrenchy he was walking the hills near his local town….  You can stop now mate.  You can stop…..
People look out for each other…
That's a nice part about walking the Camino; particularly the Frances Route where there are more people. They 'look out for each other'.   Often when I stopped to re-tape my feet or shins, people would pause to ask if I was OK.  I always appreciated that…….