From Nájera to Santo Domingo
Today was a very pleasant walk, I logged 24.5 kms on my phone, but again I covered it surprisingly quickly, I planned to arrive at about 4 o'clock but actually got here at about 3.
The walk was not too physically challenging, across rolling hills of vineyards and fields of barley and wheat.
Though I was fairly bushed!   I walked part of the day with Mary from the USA and while she checked into her accommodation I fell asleep in reception 🙂   I then checked in at my place and we joined our Camino 'family' for dinner (about 8 or 9 of us).    I probably walked with that 'family' for about 8 days off and on.  Not actually walking together much, but often meeting up for dinner or lunch along the way.  That is one of the really nice aspects of the Camino, the people you meet and bond with along the way.  Sadly this 'family' moved ahead as I was walking so slowly.   But of course other bonds formed as a result….
Here are some views of the walk that day….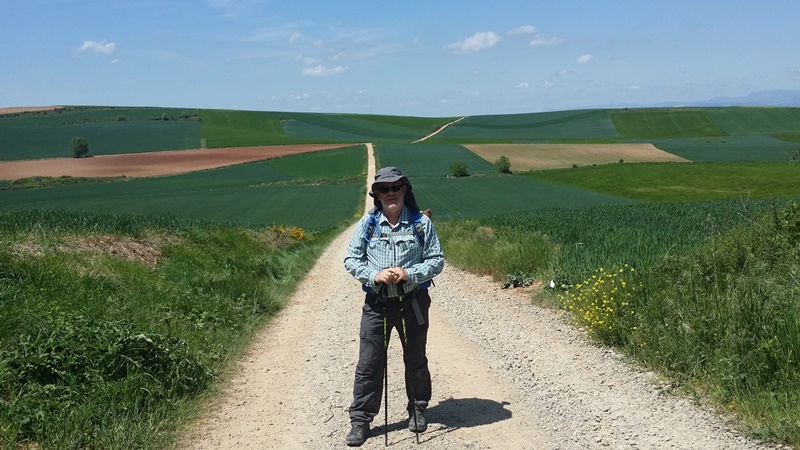 A nice little village provided a good coffee stop after the first hour and a half, and then around lunch time, the next village had a golf club that provided some really good lunch menus.
I couldn't resist the chorizo, but avoided the pork ribs, because that would really spoil my dinner 🙁
Golf club lunch
The walk into Santo Domingo took another couple of hours, and as always I'm now ready for my first wine of the day and something to eat before finding my hotel and cleaning up.
En route to Santo Domingo
The Camino on line
Just as I was coming down the hill into Santo Domingo, Pat sent me a message on line.
Santo Domingo in sight
I was surprised that we had such a strong signal so I called for a brief chat during the last kilometer into town.
Because the signal was good, I was able to turn on the video camera and we chatted for 10 minutes as I walked along the Camino which gave Pat a really good insight into what it was like.
We talked to other Pilgrims,  looked at the views,  called out Buen Camino to the passing cyclists. ..  it was a mini Camino experience online.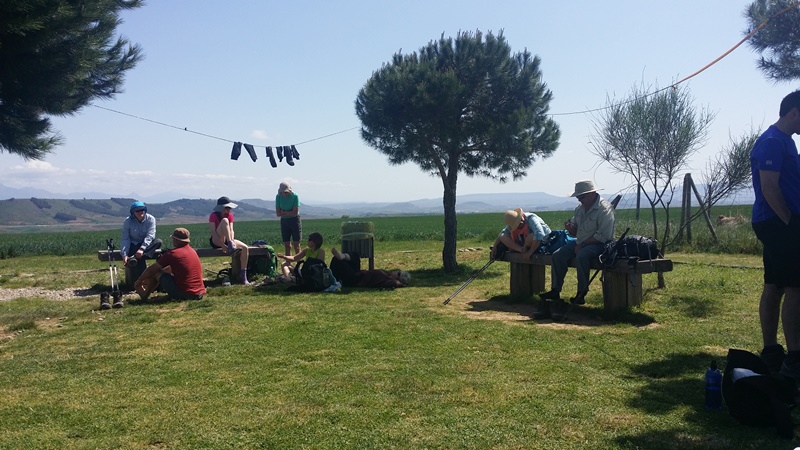 I'll probably try that again when I have a good signal and there are some interesting things to look at.
P.S.  The picture above was a break at the top of a long hill. An unemployed local guy was selling cold drinks for whatever we wanted to donate.
Everyone took a chance to get their boots off and relax.  Sorry, those are my socks airing on the line…