A Day for Thinking
Today was a day for thinking, and just putting my head down and walking.
It was a short day with only 17 kilometers and so I was looking forward to getting to Nájera early in the day to get my washing done and have a chance to relax.
The scenery wasn't particularly attractive today, so it was conducive to just concentrating on walking and thinking.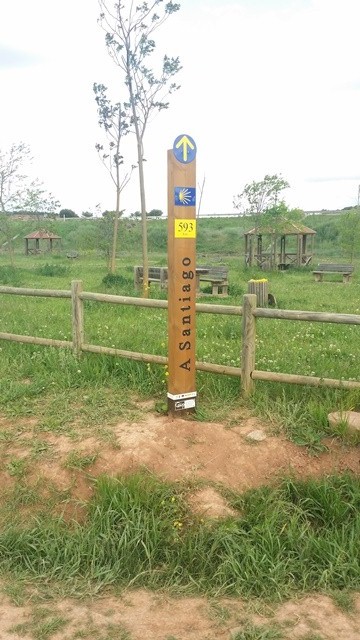 I actually took the opportunity to put my head down and walk really hard, I felt like I needed a good work out.
So rather than going to the gym and taking it out on a punching bag, unfortunately I took it out on my feet.
I covered the 17 kilometers in about three and a half hours including the 30-minute break.
It seems strange that only eleven days into the Camino when Day 1 seemed so hard, that 17 kilometers actually seems like a warm up.
It was interesting when I got into Nájera, I always have a look out for a central square with a few coffee shops and bars because inevitably that's where the pilgrims will first stop.
And sure enough coming across the bridge into the old town there on the left were a couple of bars with tables and umbrellas outside with about 20 pilgrims already gathered there.
Pilgrim Central
The first thing I always feel like after a walk is something to eat and drink, and so I grabbed a paella and two or three glasses of red wine and just sat and relaxed.
It was interesting talking to some of the other pilgrims, and we got on to the topic of emotional swings during the Camino. I was glad to hear that I'm not the only one who has good days and bad days.
Sarah (whom I met on Day 1) was telling me how last night, she had a really miserable day with blisters and sore feet and really didn't feel like continuing, so she gave herself a treat by staying in a really nice hotel.
I have to say, today she looks in great spirits  and was looking forward to the rest of the Camino.
I'm just going to take a walk around the old town now and have a chance to relax, maybe even have a nap in the afternoon.
And then like most evenings, I'll head down to a central area, where I expect many of the pilgrims will gather to share their stories of the day, their lives and their impressions of the Camino so far.
Dinner at Pilgrim Central
Foot Care
I was told before I came on the Camino, by all my Camino friends online, that everyone on the Camino becomes a foot expert.
And it's certainly true.
Thankfully, I haven't had any blisters yet, but I'm sure they will come at some point.
There seems to be a whole variety of treatment regimes for blisters, one of the most popular being Compeed.
I actually brought along a range of different tapes and ointments and so on to treat my own feet. And one of the extra things I threw in just to try it was hiking wool, that I ordered online from New Zealand.
This is just sheep's wool. You can actually get the same material by pulling it off the fences where sheep are enclosed.
I haven't had to try it myself yet, but the idea is you put the sheep's wool on a hot spot before it turns into a blister.
The concept is, that the sheep wool provides not only a buffer but the lanolin in the wool helps moisturise the skin and stops the blister forming.
Whilst I haven't had to try it yet, one of my Camino family has.
I met Renata from Italy a couple of days ago and she mentioned that she had a blister already and was getting another  hot spot.
I suggested that she try some of my hiking wool. So I gave her a couple of small pieces and continued on my way.
Today I met Renata again and said, "How did it go with the hiking wool?"
Her remark was, "You saved my life. It worked really well, have you got any more?" So at that point we stopped and I gave her another ration of hiking wool.
So it sounds like a product that is certainly worth trying and in terms of weight, it weighs nothing so you've got nothing to lose in bringing some along.