Walking from Viana to Logroño to Navarrete
It's 8 a.m. and I'm on my way out of Viana and it's a cool, fresh morning. It's so cold I've had to do up the top button of my shirt 🙂
I'm now very comfortable finding my way with my eyes constantly scanning the walls and the buildings and the pavements every time I come to a junction, it's become natural now to look for the sign of the shells or the yellow arrows.
I managed to have a brief chat with Pat before departing this morning.
Pat always lifts my spirits, and talking to her each morning avoids me worrying during the day how things are going back home.
She's having a tough time caring for her Dad who is sick, so I may need to leave the Camino to help at some stage…
People had often told me when I was planning to do the Camino, that the Camino is really a lesson in life.
And indeed it is.
The many challenges that pilgrims face during the day both physical and mental, teach us many lessons that we can apply in life.
It always seems when struggling up a particularly long steep hill, that there is a welcoming smile, or an encouraging word, to help us reach the top.
And likewise, when our plans don't quite go as we had hoped, we need to adapt and find new ways to reach our goal.
For many, this might mean taking a break or even postponing the completion of their Camino for a later date.
But things like this continually happen to us in life, and we need to learn to adapt, be flexible and find other ways for coping.
I often find towards the end of the day when my final stopping place is visible, that those last couple of kilometers can be the hardest.
It's almost like my mind and body have decided that when I'm almost there, they start to shut down.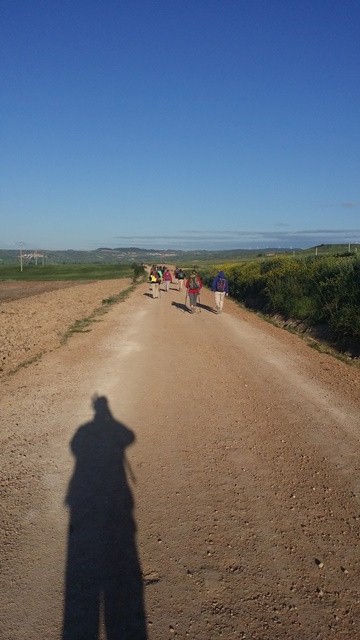 You see pilgrims hobbling around the village or town having changed out of their boots into their sandals or flip flops, and you wonder how they're going to  be able to put those boots on and walk another 20 or 30 kilometers the next day.
But it's amazing how restorative a good night's sleep can be.
I go to bed with aches and pains and wonder how I'll feel the next morning, and invariably, I wake feeling much more refreshed and the aches and pains have diminished and I feel ready for another day.
Again, the Camino teaches us lessons that we should be applying in our daily lives.
When to walk your Camino
I had and interesting conversation yesterday with Nils from Denmark.
Nils is involved in the restoration of historic buildings, and we had a very interesting conversation outside a wonderful old church in Torres del Rio. 
Nils made an interesting point, that many people want to walk the Camino in the later stages of their life to somehow find peace, maybe stability, maybe contentment, before their final passing.
I tend to think that the lessons that we can learn from walking the Camino should be embraced at a much younger age.
Perhaps we need to walk multiple Caminos in some form during our lives.
I'm certainly gaining enormous value from this journey at my age, (57)  but the pilgrims that I meet along the way are really of all ages.
The average is probably at the higher end at maybe 50 years old, there are plenty of younger pilgrims as well.
But I think that whatever age we decide to walk the Camino, we'll take enormous value from the experience. Some people perhaps if walking it at a much younger age will benefit when they're walking it again when they are older.
I experienced an interesting scene some days ago when a group of young pilgrims entered a 12th century church.
That was an amazing place, presided over by one of the older village women who was collecting donations and stamping the pilgrims' credentials.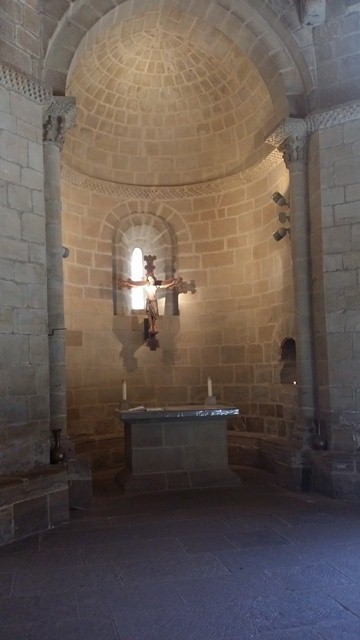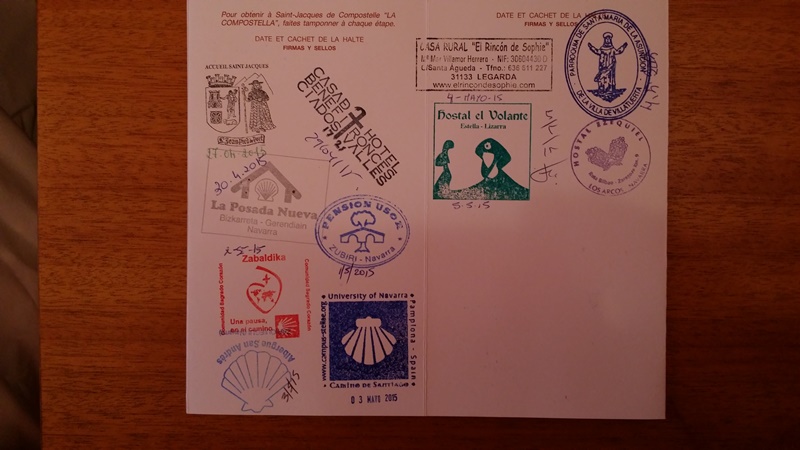 A young lady in the group stuck her head into the church and in a rather loud voice, in English, said "Wow, what is this place?" Of course the lady, speaking no English, didn't reply.
The young lady then just remarked, "Okay" and turned on her heels and continued on her walk.
What an amazing piece of history, and a moment of tranquility, she had missed, through her youthful enthusiasm to resume her journey to reach Santiago by a certain date perhaps.
If the young lady had taken a moment to actually enter the church and talk to the old lady sitting at the table inside, she would have been offered a very informative guide in English.
My Camino tends to be at the other scale or speed, I can't help but stop in most of the churches along the way, and just marvel at them.
You can easily spot me
I know that there are other members from the Camino de Santiago forum walking the Camino Francés at the same time, I really look forward to meeting some of you.
You will easily spot me by my blue Osprey backpack sporting the forum patch as well as my companion, Mr. Bean, hanging off the side of the pack.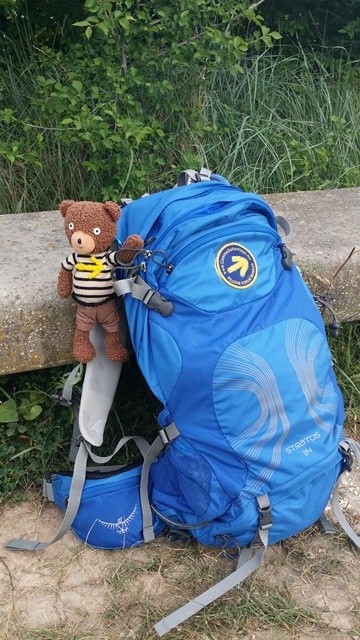 Dogged Determination 
Today I met up again with an older human dynamo and stopped for a chat.
I'll call her Jenny from Texas.
Jenny had stopped at the other side of the road bridge, and was sitting at the end of the steps, hunched over, rubbing her knees which were obviously giving her some pain.
I stopped for a chat to make sure that she was okay and like always, when you meet another pilgrim, we exchanged names and where we came from.
Jenny was suffering a little bit from tight muscles from the walk yesterday and was massaging some life into them before she got going again.
I offered her some Ibuprofen gel, but she was quite happy to move on to the next pharmacy and pick up some there.
As I looked into that face that had  obviously been through a lot, and overcome many challenges in the past, I was left with the impression that I would certainly see Jenny is Santiago.
I ended walking a while with Jenny, just to make sure that she was okay, as she always seemed to be walking at the back of a pack. Although she never actually seemed to stop.
We had a long chat about her family and where she came from and the reasons why she was walking the Camino. And she explained she's had it on her bucket list for a very long time.
I asked her if she was going to walk all the way to Santiago. Her response was pure gold.
She said, "Santiago? No way, I'm going all the way to the ocean at Finisterre." 
Lunch in Logroño
It's taking me a while to walk through Logroño, first through the old town where millions of pilgrims have walked before me, and then into the newer part of the city. There are a lot of bars and cafes, as I walk along the main street, but nowhere that I want to stop.
Bustling cities like this somehow seem alien to the journey that I'm on.
I press on amongst all the busy city folk, head down following the arrows looking for the city outskirts on the other side.
I finally get through the main part of Logroño to the outer suburbs and I find a quiet cafe with seats outside. This is a place for a rest for half an hour, get my boots off, get my heels on ice.
I look forward to getting out of the city and into the countryside and up to the hills and on to my stop for tonight, Navarrete.
Water Management
The walk from Viana down to Logroño I found quite easy, but since Logroño, the sun has come up, the clouds have cleared and it's really quite hot.
I find this kind of weather really quite energy sapping.
I've already had two breaks along the way to get drinks, some food and some ice for my heels.
Water management is really crucial when walking in this weather. I just passed a water fountain about 5 kilometers from Navarrete, my final stop for tonight. A hundred meters later, I sucked on my water bladder and it ran dry. I immediately turned around and walked back to the water fountain.
Although I've got a spare half liter bottle, another 4 or 5 kilometers in this heat might need more than that amount of water.
I'd rather carry the extra weight of additional water, than run dry, particularly as I need to keep well hydrated for my Achilles problem.
So I threw an extra liter of water into the bladder and also had a good long drink from the fountain, that should see me well into Navarrete now.
There aren't really any other pilgrims on the road at this time, this happens sometimes. Maybe they are way ahead of me or way behind.
So to keep myself going and to keep my speed at a reasonable level, I'm singing. I've gone through some of my favorite songs, and now I'm trying to motivate myself with what I will have at the end of the journey today.
It's a very simple song and the words are these: "Paella y vino, paella y vino, paella y vino." You soon learn the essential words like these in Spanish walking the Camino, quite simply it is Paella and Wine.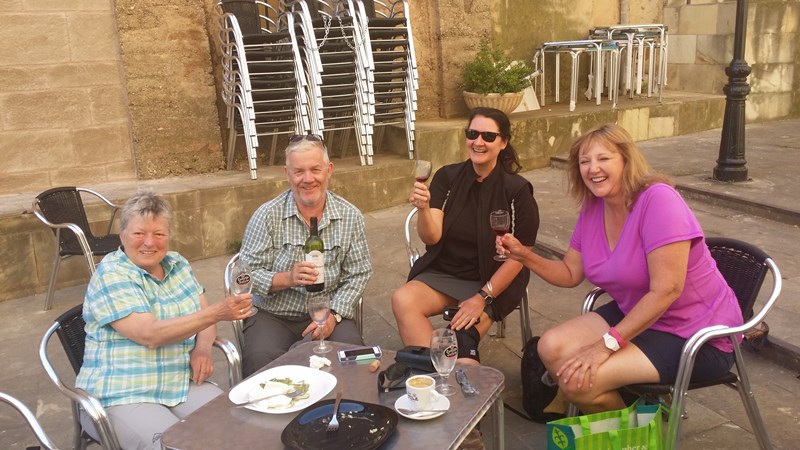 Hopefully I'll be partaking of that within the next couple of hours.