Chance Encounters: The Journey to Los Arcos
As I came into the next village for a cup of coffee, struggling up for the last part of the hill, I looked behind me and saw a familiar character.
Walking in his white habit, chatting away with other pilgrims, I couldn't make out the face from the distance, but it had to be Father Bart from the USA.
As I sat at the top of the hill, catching my breath, sure enough as they came closer it was him.
We were able to catch up for five minutes over coffee at the local cafe.
He was keen to hear how I was doing and we exchanged news on others that we had met along the way. Such as Dick and Peggy that we both knew who came from the USA.
This is what they call the Camino radio, as pilgrims have these chance encounters along the way. It provides an opportunity to exchange news on mutual friends.
Now on to the next stretch to Villamayor de Monjardín, which is not as I thought at the top of that huge hill, but halfway down it.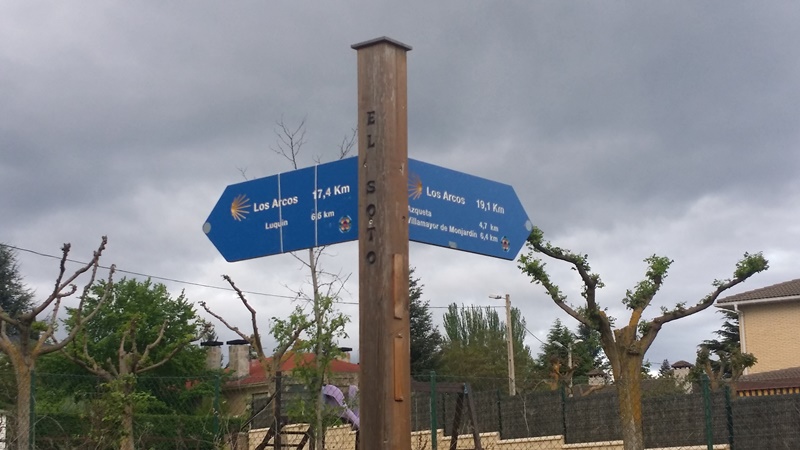 That would be the last chance to stock up on water, for the final 12 kilometers in to Los Arcos. 
Camino Contemplation
The Camino Provides
I was about 6 or 7 kilometers from Los Arcos, when the urge took me.
It must have been something I'd eaten for breakfast or lunch that didn't agree with me, but I desperately needed a bathroom.
Of course there aren't any until you get to Los Arcos. So I managed to find a discreet gulley before I continued on my way.
To avoid further dashes in to the undergrowth and to make sure that I didn't lose any more fluids, I popped two Immodium.
And then I found that my water bladder was empty due to a leak and I was down to two small bottles of water that I had for emergencies.
With 7 or 8 kilometers to go in this open countryside I would certainly arrive more than a bit dehydrated, and it was certainly not going to help my Achilles Tendons.
But at the next turn in the Camino, I hit a little oasis in the form of a caravan selling food and cold drinks.
So I downed a Gatorade in one gulp and put two more in my pack before continuing.
The body said stop
I'm probably about 3 kilometers from Los Arcos but the body said stop and you have to listen.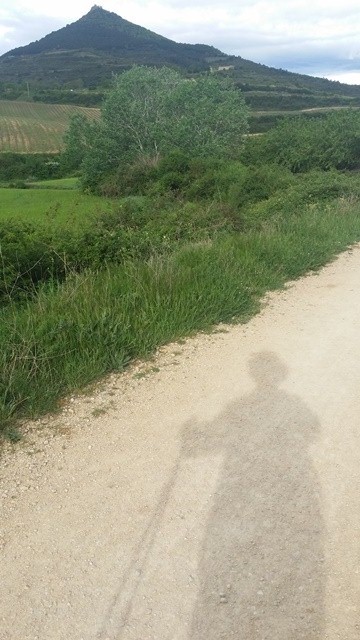 I'm in the middle of pasture land with no one else on the Camino in sight and I just sat down by the side of the road to have a Nutella roll that I made last night and I sunk another Gatorade in one go.
I'm really making sure to stay hydrated because I'm worried if I don't, my Achilles Tendons will worsen.
I feel like I could actually sit here all day, about 10 kilometers away I can see a ridge line with a wind farm.
To the right of that a mountain range that looks very rugged and rocky. Ruined farm houses, a church on the hill and next to me, a haystack.
And the pasture seems to be every shade of green that you can imagine. But I can't sit here all day, probably time now to move on to the final few kilometers in to Los Arcos.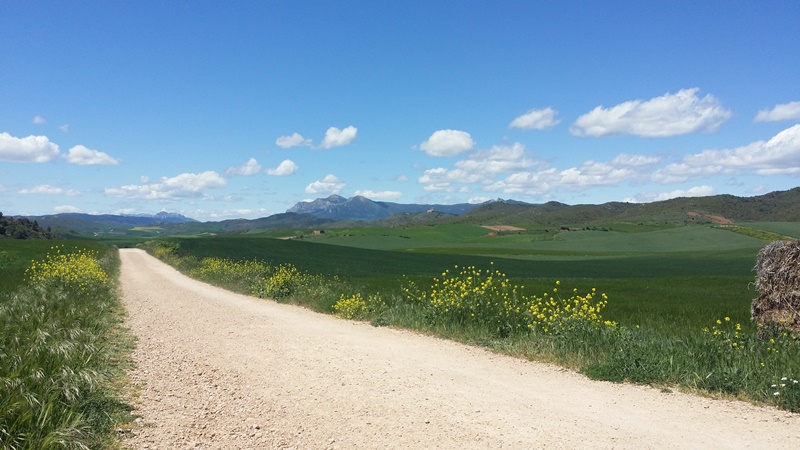 The Camino Diet
Today I though about food. A lot.
You see I have a challenge.
On the one hand, I have to make sure that my food intake is fairly considerable, to make up for all the energy I'm expending walking 7 or 8 hours a day.
But on the other hand, it would be nice to finish this Camino a lot lighter than when I started. It would be awesome to lose 10 kilograms in the process.
But where is the balance?
I need to consume enough energy to keep me walking all day, but maybe not just quite enough so that I'm actually burning off fat in the process as well.
The further challenge is that there is some really awesome food all along the Camino.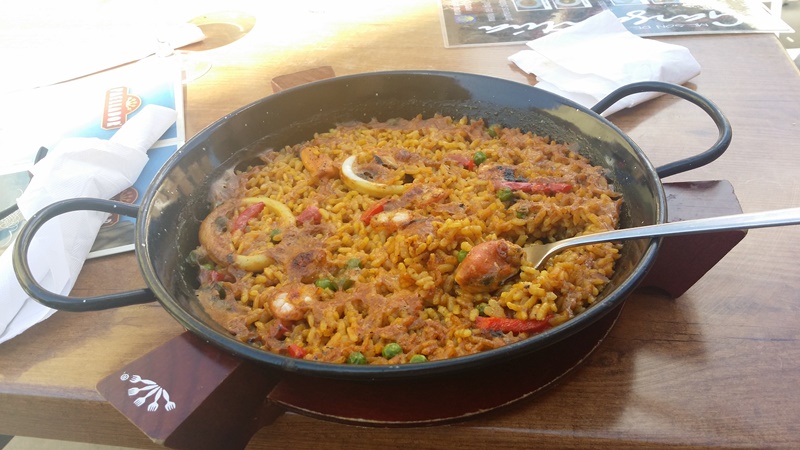 This is something that I will have to ponder further, and maybe experiment with food intake and energy output 🙂
Sharing a bottle of Vino Tinto
We sat in the main square of Los Arcos, the whole square seemed to be filled with pilgrims, most of the faces we recognize.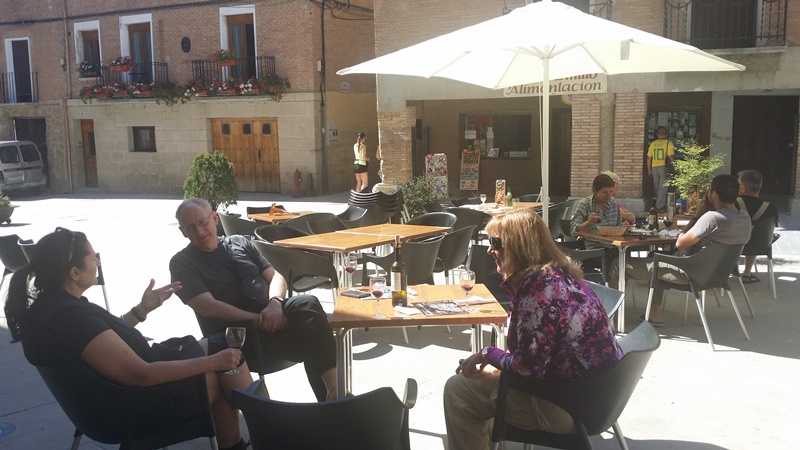 A group of us (Jodie, Father Bart and Mary) were sharing a bottle of vino tinto, that must have cost all of 5 Euros, it tasted wonderful after a long day on the Camino.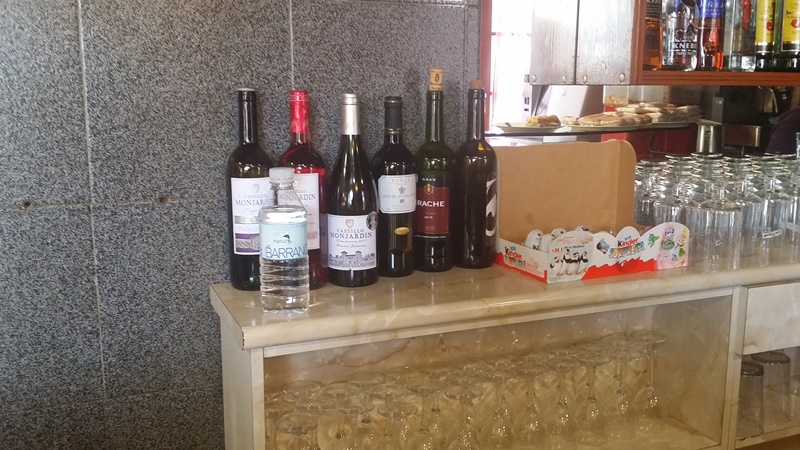 We were absolutely enthralled listening to Jodie from Sydney.
She was explaining how we should let the taste linger on the tongue and how to recognize the top notes and bottom notes and not to rush the experience.
She also went on to explain some of the production process, and what made the best quality product.
No, she was not talking about the red wine, she was talking about chocolate.
Jodie owns a chocolate business in Sydney and had us enthralled with the production process and the health benefits of chocolate, and she even had some samples for us to taste.
What a joy, some of the conversations are on this Camino. 🙂