Pat and I have a set up a fairly comfortable routine during this Camino whilst we're walking. One of the very difficult things when you're walking with a partner is to adjust your natural walking speed to theirs. So we don't even try. Pat's natural pace is a lot shorter and she tends to walk a lot slower, so I tend to walk ahead of it making sure that we're on track and then waiting for her atop of hills and so on.
We're always generally within sight of each other though unless it's for some kind of quick stop to grab a snack from a pack or to dash behind a bush. And so it was this day. We were on our way to Melide and probably only about three kilometers from the emerging town. I had to dash behind the bush and I also wanted to grab a banana as a snack.
As I normally do, I said to Pat, "You keep walking, I'll catch you up." This way, we manage to maintain a little bit of momentum.
I actually sat for a while and ate my banana and had my call of nature, and then saddled up again to continue on. I generally start off with a quicker pace to make sure that I catch up with Pat quickly. We had agreed that we can probably stop for lunch at an old Roman bridge about an hour and a half kilometers from Melide. A niggling feeling was at the back of my mind as I took a right turn down the steep hill towards the village where we were going to lunch. Still no sign of Pat?
The hill was steep and not very kind on my dodgy knees, I went down as quickly as I could and as I came around quickly as I could. As I came around each bend, I hoped to see Pat's green pack cover ahead of me. But no, nothing. Until I reached the bottom on the Roman bridge, still no sign of Pat. I knew immediately of course what had happened. Lots of people say it is almost impossible to get lost on the Camino, particularly on the last hundred kilometers, Pat has managed to!
It was that right turn down through the woods that she missed the arrow.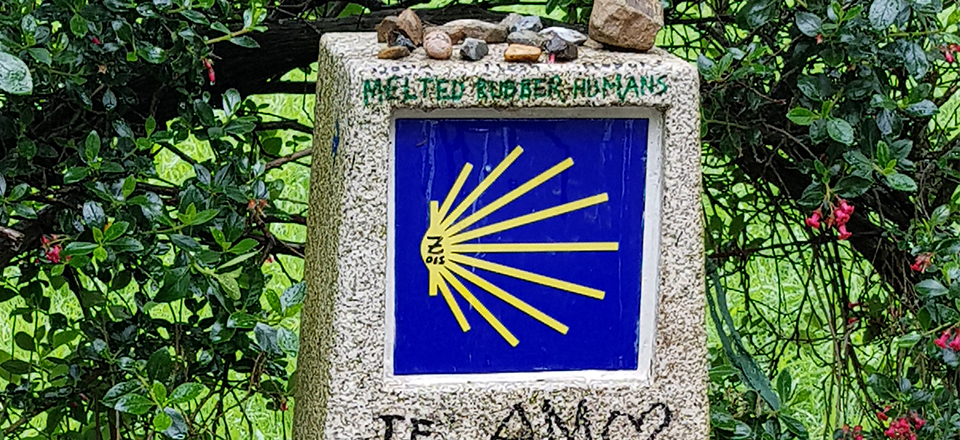 Thankfully we both had Spanish sim cards, and so I called Pat and on the third attempt, she answered. I said to her, "Have you arrived at the bridge?" "What bridge?" was the answer. "Have you arrived at the cafe?" "What cafe?" was the answer. "Have you come down the steep hill from the main road?" "What hill?"
I said to her, "Retrace your steps back towards where you left me and I'll meet you at the junction." There were a few rather puzzled looks on pilgrim faces as I almost sprinted back up the hill for about 800 meters to the junction where Pat had probably missed the yellow arrow. Sure enough, just as I arrived, she arrived coming on the main road. It goes to show even in the last hundred kilometers, if you're not watching out for the arrows, you can indeed get lost!