It's funny how things work out.
Yesterday Pat was really struggling with her plantar fasciitis, which meant that we had to get a taxi for the last five kilometers into Frómista.
Last night we discussed our various options, as it was starting to look like our Camino was probably over.
The cortisone injections that she had a month ago were obviously wearing off, and the likelihood of her continuing the remaining 50% of the Camino with plantar fasciitis was extremely unlikely.
So we talked about our options being, that we could move on to Sarria and just try to walk the last hundred kilometers, or perhaps we could move ahead to León and see if we could get some medical help for additional cortisone injections.
But we had already booked our accommodation in Carrión for the next night, so we thought we might as well move on there and use the day to reflect and plan ahead.
It was also going to be the first opportunity that Pat will be able to see a physiotherapist and get a professional opinion on her ability to continue.
There was no way really that Pat was going to be able to walk the 19 kilometers to Carrión, so we reluctantly decided to take this as a day off and move ahead by taxi and seek medical help. We would be in a better position to decide our best option from here.
But it's funny how the Camino gives you subtle messages and guidance.
I was sitting in the front seat of the taxi, with Pat in the back.
We drove the 19 kilometers to Carrión passing about a hundred or more pilgrims walking along the path which borders the road. I knew what Pat was feeling, as I was feeling the same.
It was that feeling of not being able to complete the journey, or at least not to be able to complete it on foot as we had planned. Of somehow letting down the team…
As we glanced across at the walking pilgrims, some of them limping, Pat said to me from the back seat, "I need to continue. I'm not giving up yet."
So we arrived in Carrión to our hotel stop, with the new resolve, that following our medical appointment later today that we would try our best to continue.
We had by chance booked a night at the Hotel Real Monasterio de San Zoilo.
The Camino is really providing today in spades!
The hotel is basically an old monastery complete with a beautiful church. We've been allocated a room which was probably one of the monk's cells in the past.
But the place is, as far as hotel accommodation is concerned, obviously been upgraded. As we walked around the hotel grounds and around the building we were just amazed.
Just below our room I see beautiful cloisters, where I'm sitting right now, with calming Benedictine chants echoing around the cloisters. We took a look around the building this morning and spent some time in the church.
The building even has a small museum. We then found a spot behind the building where pilgrims and the monks in the past have traditionally put their feet in the ice cold river to renew the strength of the feet.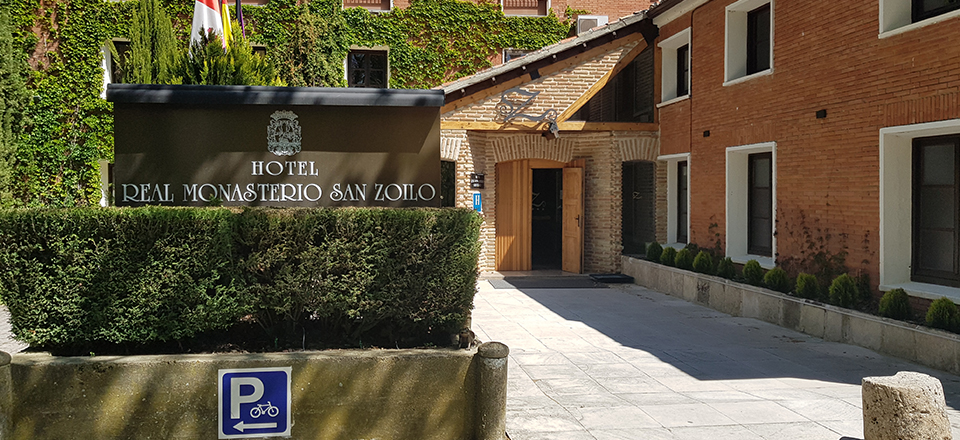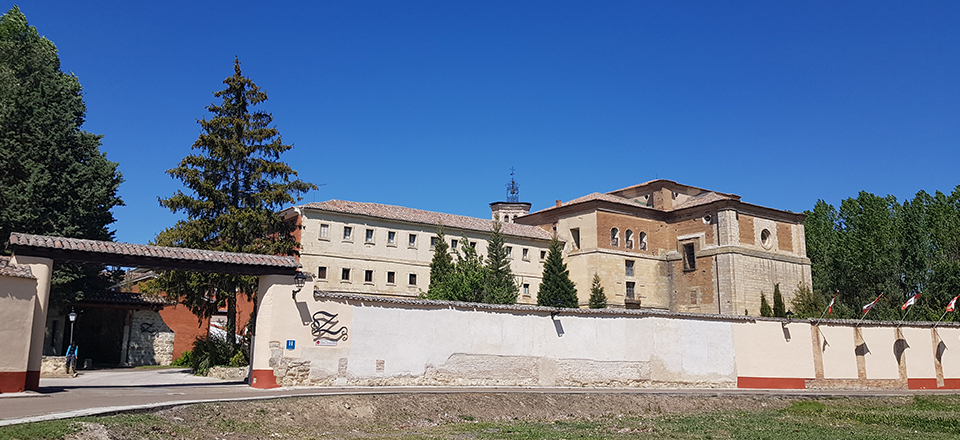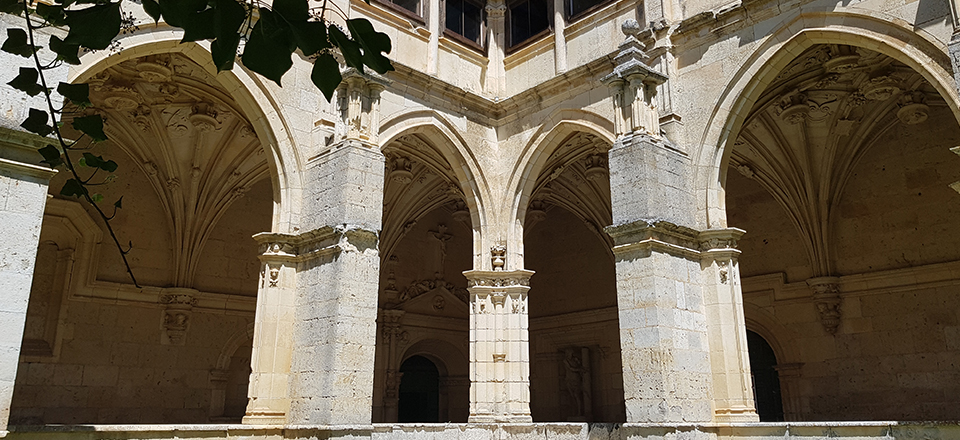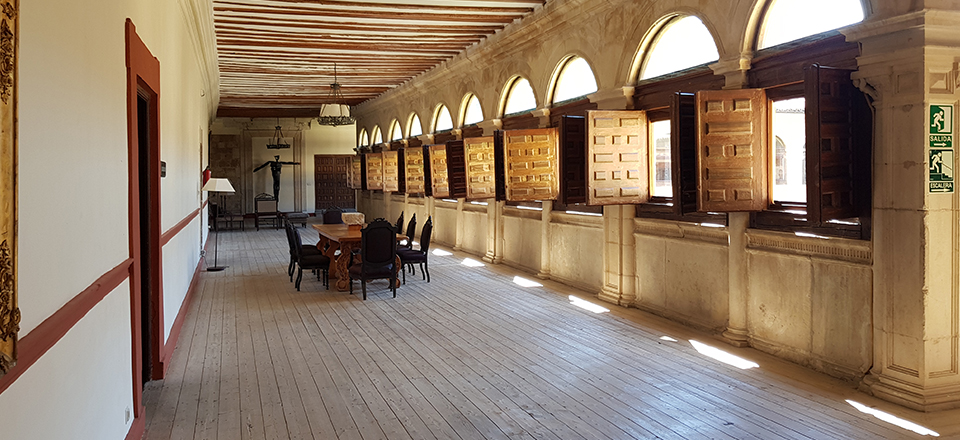 Having just spent the morning here, we both feel that we were meant to spend some time here to renew energy perhaps, renew faith perhaps, renew commitment perhaps. But we were obviously meant to stay here for a night.
We both thought that this would be a fantastic place to actually pause, recharge  and reflect on the rest of the journey and so we enquired in reception if it was possible to stay for an extra night.
The receptionist checked with the assistant and said there's one room! And it will go fast.
We both looked at each other and said we'll take it. Some things are meant to be.
This is certainly going to be a defining moment of this Camino. And this will certainly be a memorable one.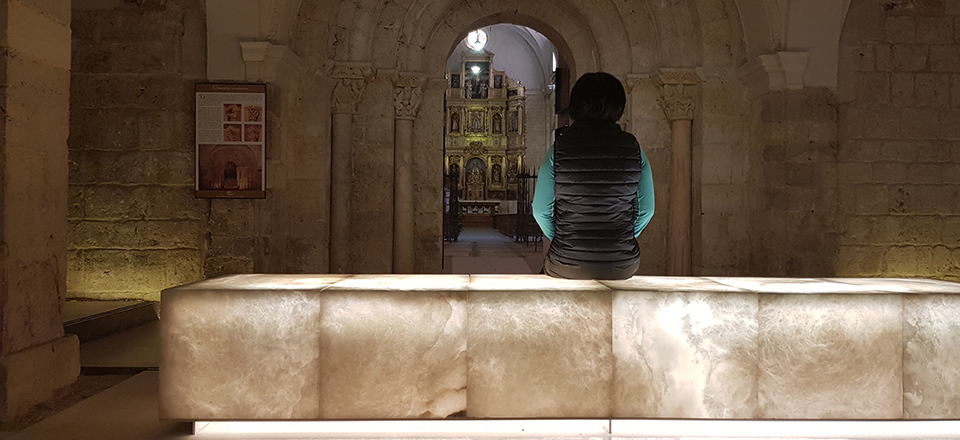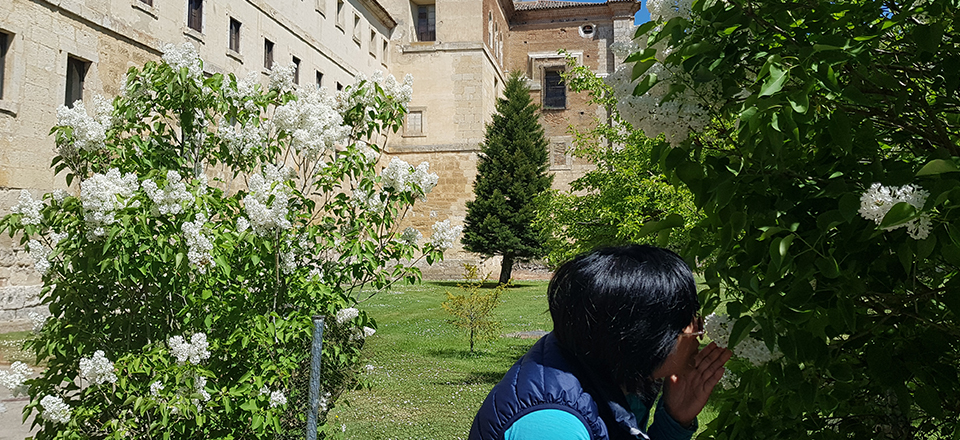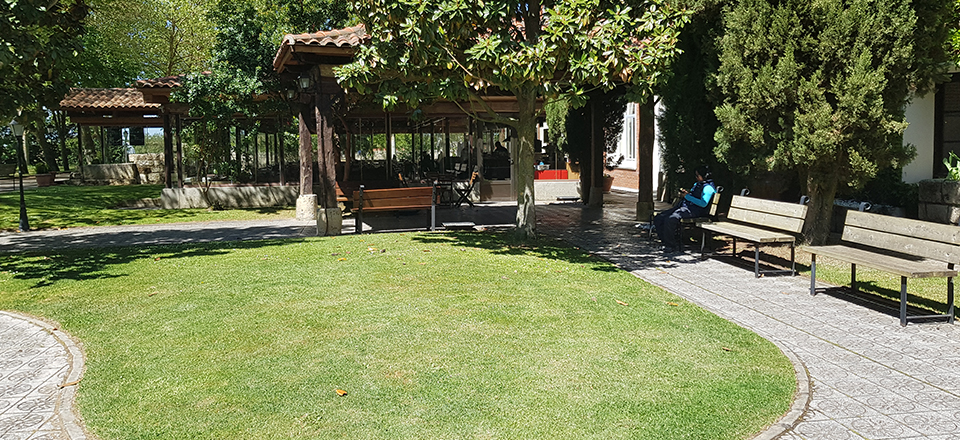 I would certainly recommend anyone who is seeking any kind of spiritual journey, to really consider staying at this hotel which is almost halfway along the Camino Frances.
It might be a little bit more than some people are prepared to pay, but to me the experience is worth ten times that.
For those looking for nice food along the Camino, we just had lunch at the hotel restaurant, which is probably one of the best meals we've had since we've been in Spain.
Admittedly, for 3 courses, it cost about the same as the price of the room for night! But it was a fantastic experience.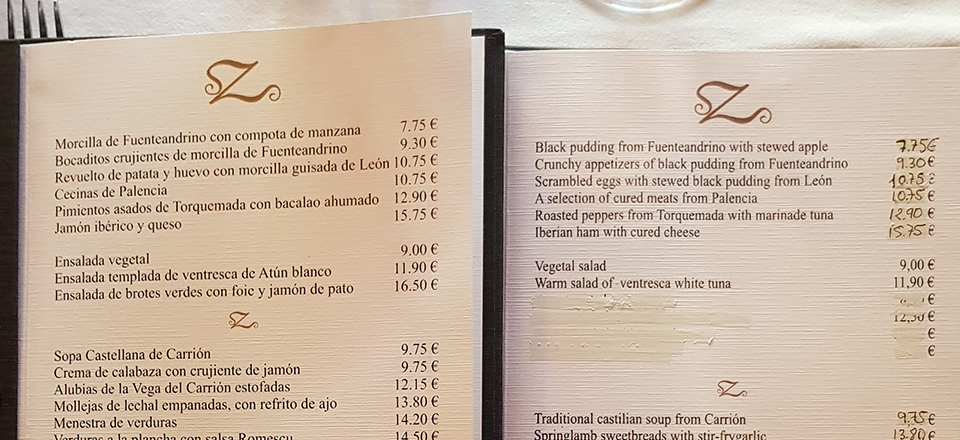 We're both now lying on the grass under a tree in a shade near the cloisters, listening to the beautiful chants echoing along the cloisters, as we wait for another hour to walk back into town for the physio appointment.
That appointment will probably dictate how the rest of this Camino unfolds.
But we're both feeling a different confidence through, I guess, being guided to this place to rest for a day.
After lunch we started planning our next stopping places along the Camino. All will depend on the physio appointment at five o'clock, but I somehow feel that we'll be continuing.
Note. The physio appointment went well.  See Comment below.