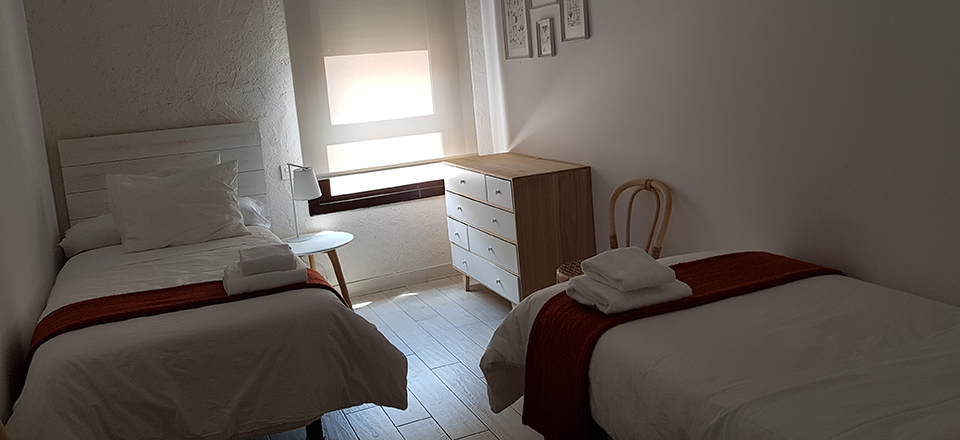 Pat and I have been talking about pros and cons of booking ahead with our accommodation.
There certainly are some interesting pros and cons.
On the one hand, some people come on the Camino with everything pre-booked! I can understand why, for some people the security and apparent lack of stress, associated with having everything pre-booked could be an advantage. We've met some lovely people who have had everything arranged through tour companies for them. But there are some negatives. So if you are thinking of using a tour company, I would suggest checking on a couple of things. Firstly, we met a lovely lady from Canada who's in her late 60s. The tour company had pre-booked all her accommodation, but it was basically set around the stages in the Brierley guidebook. Whilst she was very fit, there was no way that she could cover some of those distances. She was extremely concerned, that even in the final stages, they had her doing a 30-kilometer day!
What this meant for her of course, is that she couldn't complete some of the stages to reach her accommodation, and so ended up having to use taxis quite a bit. She reconciled herself to the fact, that that was just how her Camino is going to be. But it's unfortunate that some of these tour companies don't take into account the age, fitness, walking speed, and preferences of their clients. We've also met people whose accommodation was booked way off the Camino, which involves transport backwards and forwards.
Of course, there are those who love to just wing it, and arrive in a village and see what accommodation is available. During a busy time of year like we are experiencing now, that can cause a few issues. We've met people who basically turned up in a village that was totally booked out and had to use taxis to get to the next village.
Our Preferences
There are so many different ways of planning your accommodation. Wing it like many others. Plan the whole thing from start to finish. And maybe just book a day or a two ahead. That is certainly our preference.
Pat is talking about doing another long Camino and she mentioned this morning that she would like to book all of the hotels right away through. To me, that is a bit of beginner's mistake. The reason being it's rather like having a tour company book all of your accommodation, that you have absolutely no flexibility. I think if you are going to plan ahead, you have to be very careful because there maybe some days when you are injured and you want to stay an extra day somewhere. Or maybe due to an injury, you want to walk a couple of short days. Or maybe conversely, you're feeling really good and want to do a couple of long days. So certainly my tendency is really just to book one or two days ahead.
But that is actually proving very difficult during this Camino! Why?
We're finding it's just so busy. Obviously, I can't speak for those staying in albergues, because we are not using them. We're tending to aim for casa rural (Bed and Breakfast) and in the larger towns maybe a nice hotel for a bit of added luxury.
What we're finding as we are getting to the, I guess what is the final third, is that accommodation options are becoming far more limited. I suspect this is due to the popularity of the Camino Frances, and also the degree of commercialisation that we are now seeing. There appears to be far more organised tours and coach trips. This I had seen before in the final stages from Sarria, but now it seems to be all away along the Camino. So possibly what is happening is that a lot of the accommodations are getting snapped up by the tour groups.
We were in Molinaseca last night, and I thought I would start booking two or three days ahead and started to look at accommodations in O Cebreiro. Well. There is actually nothing on booking.com in O Cebreiro so I used the gronze.com website. There are about 10 different places in O Cebreiro. I rang every single one of them! And all were completo so even three days out from O Cebreiro we can't get any private accommodation. So because we want to have a nice lunch in O Cebreiro I had a restaurant that we know, we decided that we'll do lunch, and then walk another 3 kilometers to Liñares, where we managed to find a room at a casa rural.
This, of course, got us thinking about the final stages for this Camino. And we started to look at accommodation options beyond Triacastela, Sarria, and thenalong the final 100 kilometers. Again on booking.com for private accommodation, the options are very limited. And so we ended up booking all of our accommodation for the rest of the Camino including a couple of nights in Santiago. Even while we were looking online as we are deciding between different hotels, available beds were disappearing before our eyes!
So I think if I was to walk in Camino Frances again, I would seriously consider walking at a different time of year, although I think this will probably be the last time on the Frances and we'll go for a more remote route in the future.