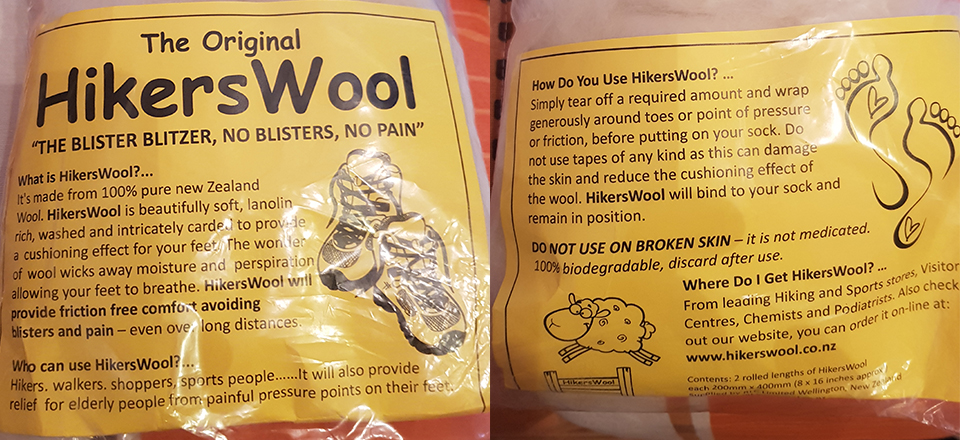 Hiker's wool is amazing stuff!
I first came across it when I walked the Camino Frances in 2015. As soon as you get a hot spot, you put it against the skin in the sock, no tape required, and miraculously the hiker's wool massages oil into the skin whilst also reducing the friction. No blisters in 800 kilometers.
I made sure I brought maxi pack of this stuff on this Camino. Unfortunately, Pat has found it so effective, she coats her feet every morning with Vaseline and virtually covers her whole feet in hiker's wool! I said to her, "Are you developing any hotspots?" She said, "No, none at all." I said, "Maybe you could try actually walking without the wool and see if you need to use so much." "No, no," she replied, "It's obviously good for my feet."
Of course the consequence is we have almost run out of hiker's wool. So about ten days ago, I contacted the manufacturers in New Zealand and asked if they could send us another pack. I tried to work out where we might be in ten days' time. I worked out we would be in Villafranca del Bierzo, and so I asked for the pack to be sent to the hotel with a note on it asking that it be kept for our arrival.
Much to our dismay when we arrived at the hotel last night, the wool wasn't there. So we thought of a Plan B. Plan B was obviously to start recycling the wool that we've been carefully keeping in a zip lock bag. Also, I asked the hotel to email me should the packet arrive, so that we could decide where it could be forwarded. In the back of my mind, I thought if it arrives the next day or two, I'll actually jump in a taxi and go back and pick it up. It really is good stuff and I don't want to be walking too far without it.
Today we are five kilometers out of Villafranca and I happened to check the email, and the hotel has said that the packet has arrived.
I replied that we will return immediately to collect it. As we walked into the small village of Pereje, which really is a three man and a dog village, with the only thing in the village likely to be open is a small albergue. As we entered the village, a taxi pulls up to let out an old gentleman. I stand next to the taxi and as their transaction is completed, say to the taxi driver, "We need a taxi. We've forgotten something and have to go back to Villafranca." "No problem," he said. We jumped in the taxi and sure enough when we got back to the hotel, the packet was there. Within 15 or 20 minutes, the taxi has returned us to where he picked us up and we were to continue.
But I was ashamed! As the taxi drops us in the village, a huge gaggle of pilgrims come walking up the hill. I can only imagine what they must be thinking: two regrinos. But at least we know that we haven't skipped anything and really have to pop back to collect a vital piece of gear for us to continue our Camino. 😄