It was a wet day and fairly chilly, so we weren't really inclined to stop whilst we're walking the section.
Until we saw an ordinary sight of a cafe and albergue towards the end of the village. One of those old stone granite buildings that I always find really inviting.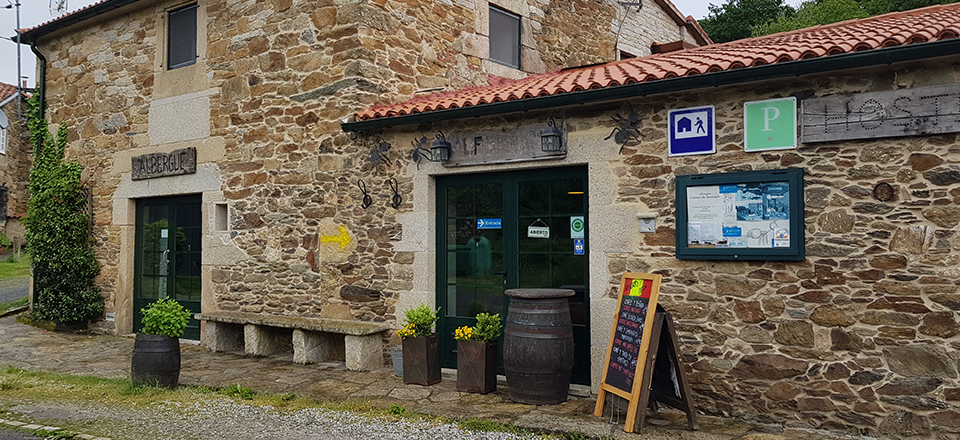 As we entered it was obvious we were the only customers. On the bar were freshly made tortilla, apple cake and Santiago cake. But that morning we had left without having breakfast, so we were after something a little bit more filling.
The background music was Leonard Cohen. And I'm a great fan of Leonard Cohen. But I think the music, the empty cafe, and the sad look on the owner's face, all combined to make the atmosphere rather gloomy.
When we ordered bacon and eggs with toast, it was almost a perceptible sigh as José glanced at the freshly made cakes on the counter, that he was hoping would entice more sales to passing pilgrims.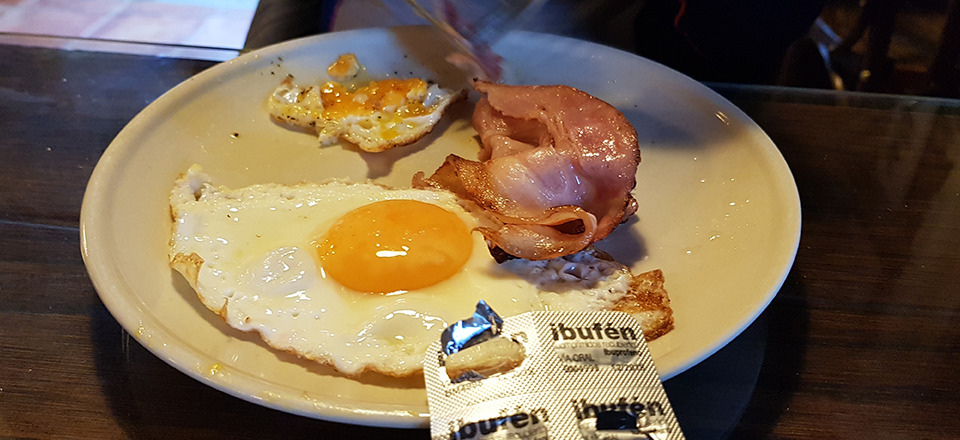 By about the third Leonard Cohen song, our bacon and eggs had arrived. And they were great! As we were eating, José took up a stance glancing out of the glass front doors. An almost defiant stance, feet widespread, arms crossed, as he looked out into the gloomy weather. I wondered what was on his mind. Where are all the customers today? How am I going to pay the mortgage? What other thoughts were going through that mind that were causing the furrows on his brow?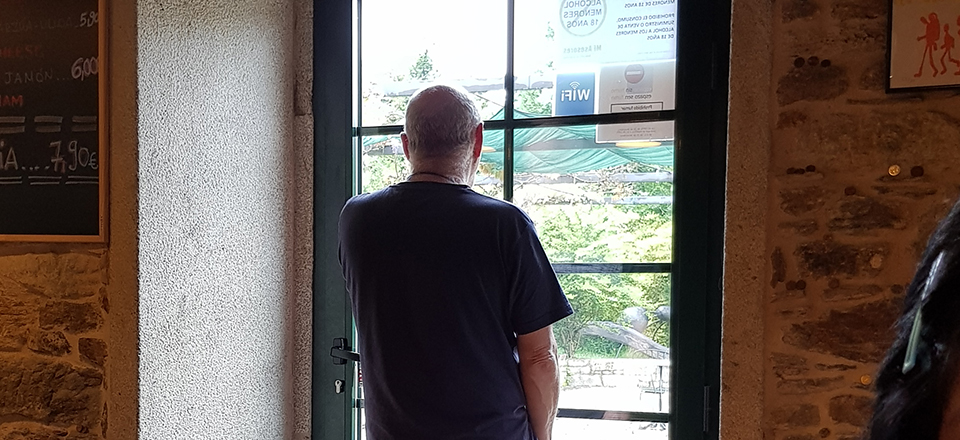 As we were sitting in our window spot, as any passing pilgrims glanced our way, Pat would raise her glass of orange juice, almost in a gesture of "the food is great."
A couple more customers came in, we were glad to see that they were buying some of the fresh cakes on the counter.
We started to feel sorry for José, and whilst we were actually quite full from our bacon and eggs, thought we should at least sample some the freshly baked cakes on the counter. So another coffee and some fresh apple cake followed our breakfast.
This is a really great albergue and cafe, and in past years I've always seen it be very full. So I'm not sure if we just caught it at a bad time of day or a lulling of pilgrims?
Maybe this wasn't José's chosen way of making a living? Who knows? But it was nice to see by the time we left, that the Leonard Cohen CD was on its second circuit, that José bid us a buen camino with a smile.
I sometimes wonder how some these pilgrim purpose businesses actually make a living on the Camino, as it's really quite a short season for them. I hope José and his wife, who's working tirelessly in the kitchen, are doing better than they look.
(Name and location changed)