Camino Frances Start Day
And I can't Sleep!
It's 3 a.m. and I'm lying in bed in Saint Jean, not able to sleep. Outside, the rain is pouring down and I can hear it pattering on the roof.
I wonder if the rain will still be this strong when I start to walk, but I'm not too worried because I have really good waterproof clothing.
To pass the time, I called Pat, my wife, and we had a long chat before it was time for me to get up and start my walk.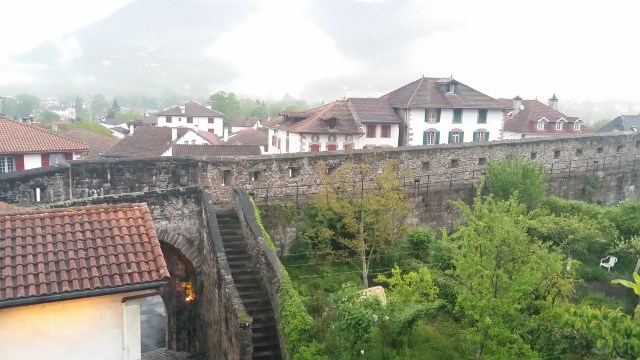 Breakfast was a nice affair, meeting more new pilgrims mainly from America. And we all started walking at roughly the same time.
I set off at 8 a.m. down the Rue de la Citadelle and through the Spanish Gate, somewhat concerned about how my legs were going to hold up on what I understand is a very steep climb on Day 1.
But lots of stretching as instructed by my Physio, will hopefully see me through.
I started walking at 8 a.m. and immediately, the ground started to rise in front of me and I realized this was not going to be easy.
But I told myself to take it easy on Day 1 and go slowly and steady as it would be really stupid to compound my injury on the first day.
As I continued up towards my Day 1 objective, the albergue at Orrison, many other walkers started coming up behind me, and passing me fairly quickly.
The good news was, this allowed me to carry out a fairly extensive survey on the types of backpacks that people were wearing. 🙂
I determined that if I could maintain at least one and a half kilometers an hour on my GPS,  I would make my pickup at Orrison by 2:30.
I was surprised to find that I started off at 3 kilometers an hour slowing to 2 kilometers an hour on the really steep bits and whilst I had it planned to leave 5 or 6 hours to reach Orrison, I actually made it in 3, which was very surprising.
After a couple of hours walking, the incline seemed to get steeper and steeper and I just had to keep telling myself to go slowly and shorten my step.
I decided that stopping really wasn't an option as my ankles would probably swell, they'd make it really hard to get going again.
So I just kept telling myself: go slow, step short, one foot in front of the other, keep going, keep going, one foot in front of the other. And that kept me going up the hill.
It was quite a serene experience, this first day of walking up towards Orrison.
The peace is quite amazing. Most of the time, all you can hear is the sound of cowbells and the various animals that you pass along the way and the views are really spectacular.
The silence is only broken now and again by other pilgrims coming up behind and calling out "Buen Camino" and then having a quick chat before they pass by.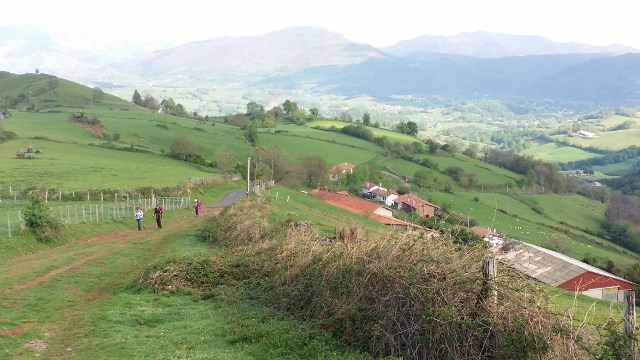 On arrival at Orrison at 11 a.m., I was able to get some ice to throw onto my ankle and had a very welcome lunch of ham and eggs and chips followed by coffee.
It's very tempting to continue on, I feel like I could, but common sense dictates that I go back down to Saint Jean tonight as planned. (I preferred not to stay at Orisson.  Alberques are not really my thing)
And then tomorrow morning, I'll get a taxi (Express Bourricot) back up to today's finish point to continue on where I left off.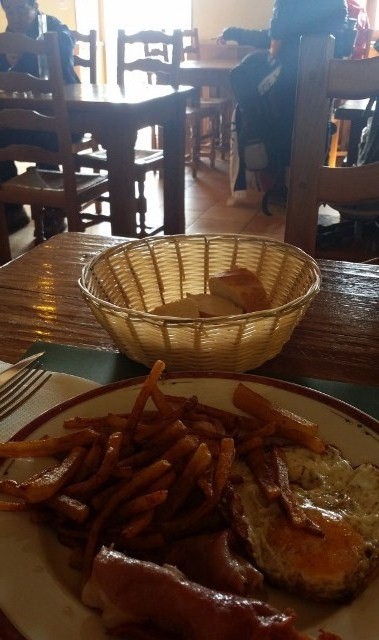 Something that was really interesting walking today was clothing.
I was fascinated to see when we started out that so many people were wearing wet weather clothing and fleece jackets and hats and I felt a bit out of place just walking in a light shirt.
Later on, as the incline started to increase, and people were obviously getting hot walking, it was quite amusing because even though I was probably the slowest walker today, I kept passing little groups of people as they pulled to the side of the road to take off their jackets and jumpers.
I wonder why people actually start out wearing so many layers of clothing?
But as I sit here now in Orrison, having had lunch, and waiting for my pick up, it's getting very, very cold.
So I think the technique is to dress in light clothes whilst walking and have something warm to put on as soon as you stop.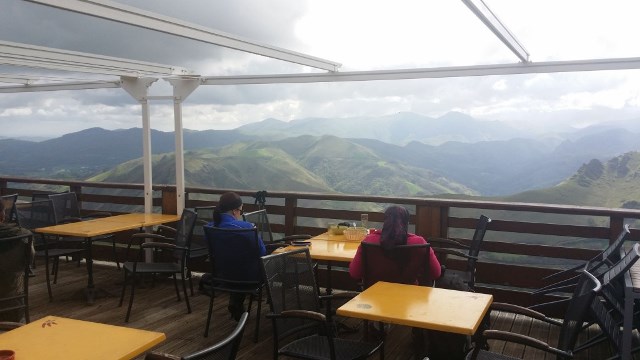 One of the interesting things that I found today was the conversations with so many different people from all over the world.
Today seemed to be mainly people from the USA but there was a good smattering also of people from Korea, Eastern Europe and some from the UK.
By the time we had all gathered at the refuge in Orrison for lunch, some of the conversations over lunch were very interesting.
Over lunch, I was lucky enough to sit with David from the UK and Father Bart from America and we were talking about the reasons that people walk the Camino.
We were reflecting on those very popular movies, Six Ways to Santiago, which is a documentary, and of course, the movie that all pilgrims seem to have watched, The Way, starring Martin Sheen.
Father Bart commented that in both movies, it was interesting that whilst the pilgrims have set out with something in mind that they were searching for, something that they wanted to find through the Camino, that the reason they were doing their Camino always seem to change during the Camino.
The way I tend to think of that is that many people come on their Camino searching for the answer to a particular problem, whereas I think in reality, what we find in walking the Camino is the question to which perhaps we fit the answers we find whilst we're walking.
Or to put that another way, we find answers as we're walking and during the process, we realize the question that we ought to be asking ourselves.
OK.  A bit deep for Day 1….
The Camino certainly makes you think.