We're now getting into the rhythm of the Camino fairly well, although because we're only walking short days, we're not leaving particularly early, generally between 9 and 9:30 am.
Today's section is about 15 kilometres, which seems to be about as much as Pat can take at the moment.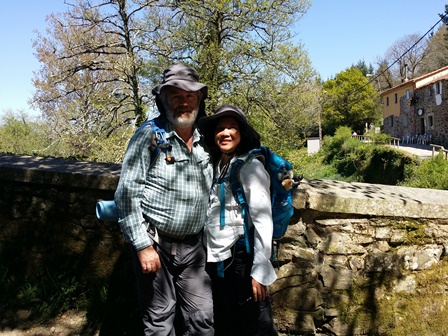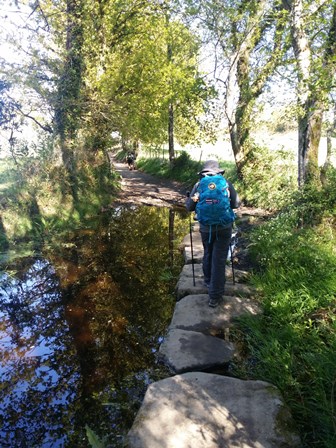 I think it's a good illustration of what can happen with little or no preparation.
It's not Pat's fault of course, because she developed plantar fasciitis a couple of months before we were due to go on the Camino.
But because she hasn't been able to train due to that, she's suffering now. The plantar fasciitis seems to be under control with medication and stretching, her arthritic knees seem to be under control with knee braces, but unfortunately coming down a steep slope yesterday a little bit too quick, she seems to have developed shin splints in one leg as well!
Leg
Taping Leg
Pat was not happy that I took a piece of skin off with the the strapping tape!
I think if we ever did this again with a little bit of conditioning training, we could probably avoid a lot of this.
But she's gritting her teeth and doing very well, and with a little bit of amateur taping on her shins today, Pat seems to be keeping and moving okay.
I think if we get a chance to drop into a physio we certainly will, I know there's one in Arzúa, but that's still going to be a couple of days away for us, maybe we can find one in Melide.