Walking from Castrojeriz to Fromista
Finding the first coffee
I've been walking for about 2 and a half hours now, on the stretch from Castrojeriz to Fromista.
The walk was quite interesting in the early stages with a big hill to climb out of Castrojeriz and views across the open Meseta with quite a cool wind blowing.
We're now down near a thousand year old bridge as you can see on the video.
Roman Bridge
I'm just walking through some pasture land to hopefully find a coffee stop in about 20 or 30 minutes.
I'm well settled into the routine of the Camino now, I'm just enjoying the journey.
Today is quite a long stretch, for me, of 26 kilometers. So I'm making sure that I'm looking after my feet properly and going fast enough so that I'll get there in a reasonable time, but not too fast or I'm going to damage my feet.
No particular deep thoughts today.
Just enjoying the peace of the country side the sound of the wind in the trees, the bird calls and the occasional sights of another pilgrim in the  distance. A very peaceful day.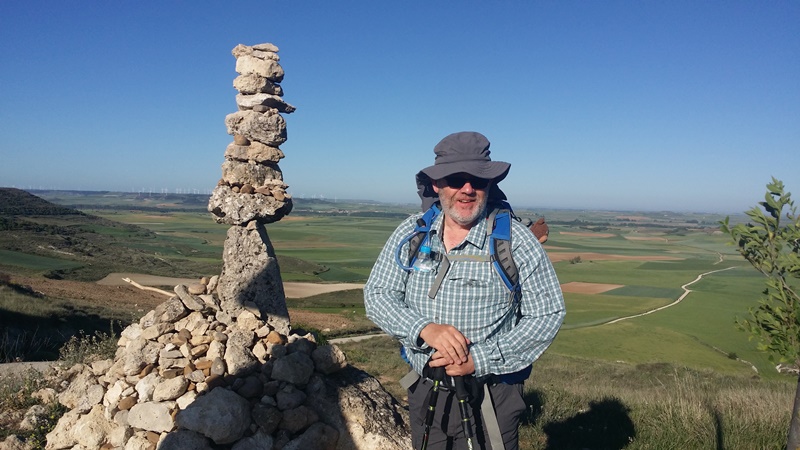 Boots Outside
I stopped at Boadilla del Camino.
With only 6 kilometers to go my feet are starting to feel a bit sore, so I think it's time for a final coffee stop and some ice for my heels, before pushing on to Fromista.
As I walk through the village a beautiful little church calls me off to the left. I circled the church but unfortunately it was closed. Fifty or sixty percent are open, so  I always like to check.
I wandered on through the village, a sleepy place as always, looking for a nice coffee spot.
I found an Albergue that had a terrace where I could sit and ice my feet.
As I walked into the back garden where the terrace was situated and came to the main door of the Albergue the owner was standing looking at me.
She took one look at my face and then looked at my boots. With a disapproving look.  I was very dusty.
On the wall next to her was the sign Leave boots here, thank you.
But I think my boots passed her approval as they were not too muddy and I was allowed to walk inside to order a coffee and ice cream.
I'm sitting here now with my heels on ice having an ice cream and coffee and I'm now feeling much more able to cope with the final 6 kilometers into Formista.
While I'm here I'm chatting with a guy from Sweden and one from Slovakia they have both just been sent outside to leave their boots outside :).
If I was looking for an albergue in this town I'm not sure that these people would be the friendliest host!
Time to move on and hopefully I can find a paella and a glass of red wine when I get to Formista.
Although as I won't get there until 3:30 or 4:00 o'clock everything could be shut!
Before leaving the albergue, I decided to change my socks for a dry pair, and replace the Vaseline and sheep's wool on my feet. Before putting my boots back on, I ventured inside to use the bathroom not daring to do so wearing my boots.
Inside, the dining area was already neatly laid out for dinner some 6 hours before dinner is likely to be served, neat place mats, glasses all lined up and bottles of wine at the ready. Whilst the owner's husband was fussing around straightening chairs and putting things back in their place that passing pilgrims had dared to use.
It seems like one of those homes you visit for afternoon tea where you don't put anything out of place!
Time to move on.