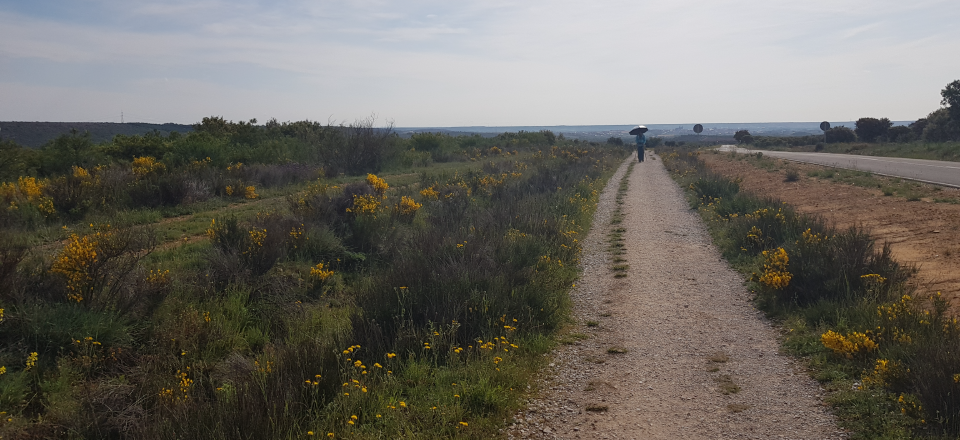 We're on the section from Astorga to Rabanal, and I'm still amazed at the number of pilgrims walking.
The whole of the  Camino, seems like the final hundred into Santiago from Sarria that I experienced for the first time 3 years ago. I'm beginning to wonder if that final hundred, is even more busy now?  And would I walk in the Camino Frances again?
At this stage, I'm not sure. Whilst I love the route, and the plentiful infrastructure that certainly makes it easier, I'm really not sure.
The times of isolation, and opportunity for thought and reflection, that I experienced on my first Camino in 2015, don't actually seem possible anymore on the Camino Frances.
It could be, that we are merely traveling in the peaks rather than the troughs of pilgrim traffic. But I don't think so. We're tending to walk fairly short days and also we've been stopping in a few of the smaller stopping points. That would normally tip us out off the peak and into a trough. So I'm really coming to the conclusion that this is just becoming a much busier route.
So what next? I'm not quite sure I would enjoy the other extreme, or perhaps the Via de la Plata. But maybe a route less travelled, are a degree of isolation might be a good idea for the next one?
But certainly, for Pat's first long Camino, the Camino Frances has been a great choice, due to plentiful accommodation and eating places. And it also allows us to walk relatively short stages if we want to. So I'd certainly recommend it as a good beginner Camino.
Future Caminos?
Pat would like to walk another short Camino directly the end of this one!
The reason being she's walking this Camino for her late mother, and she'd like to walk another one for her father. Obviously, we are not going to turn around and walk another 800 kilometers right now, but we can certainly do another hundred. So we're contemplating perhaps the Ingles or Portuguese.
There are advantages to the Ingles. It's in Spain, so we are used to the language and booking accommodations and so on.
The appeal of the Portuguese is that we get to see another country at least for a few days. But the downside is I'm going to have a crash course in Portuguese!
As for future Caminos, who knows?
I think if I was going to do another one with Pat, it would probably be from Le Puy, as we both love France. The only disadvantage that I can see though, is that if we'd merely walked from Le Puy to St. Jean a distance of I think of about 800 kilometers. We might not actually complete a Camino as such. I think for me it's nice to walk a complete Camino de Santiago!! Maybe we'll just need to walk 1600 kilometers from Le Puy!
I think if the next one is a solo Camino, and definitely one of the more remote routes. Like the Via de la Plata.
We are constantly learning and refining how we walk Caminos, for those who have done multiple Caminos. A major lesson for me on this one is just to keep reducing the amount that I'm carrying.  I think I could actually get down to about 5-kilo backpack if I really tried. Of course, the other major weight  question is body weight. Pat and I both set up with the intention of using this Camino to lose weight! I think that was really a pipe dream. There is so much great food as you walk across Spain and coupled with all the wonderful fresh bread and the fantastic local wines, I think any attempt to lose weight is pretty much a fantasy.  So the key for any future Caminos will be to lose the body weight before we start! That is gonna to make the walking much easier.