As I've mentioned before, the Camino Frances this year seems particularly busy. I guess it depends, of course, what time of year you decide to walk, November and December I'm told are great times for solitude!
I'm not sure why, maybe because of the weather this time of year, but I favor the end of April through to the beginning of June.
But this year, for some reason, it seemed extremely busy all the way from Saint Jean Pied de Port.
So I was wondering what it was going to be like once we hit Sarria, as normally, the pilgrim numbers increase significantly from this point on.
We weren't disappointed! The significant increase, probably because of waves and pilgrim numbers, actually hit us coming out of Portomarin. As we both walked this section before, we were prepared for the change in our Camino.
It was almost comical, though.
I think it in fact after Gonzar, that the fun really began. I wish I'd taken some more videos and photographs.
On the long uphill, we were overtaken by a gaggle of young men in Lycra, and by the noise I assumed they were Italian. And indeed they were. They seemed to be on a mountain bike equivalent to the Tour de France, but were obviously having lots of fun, certainly judging by the noise they generated. We just pulled over and let them pass.
As we neared the top of the hill, we met a delightful group from America whom we had seen earlier in the day. This was a church group who were traveling with a support bus during the last hundred kilometers. They were delightful people who we met a couple of times and had a really good chat with. Next came a lady dragging her wheely suitcase.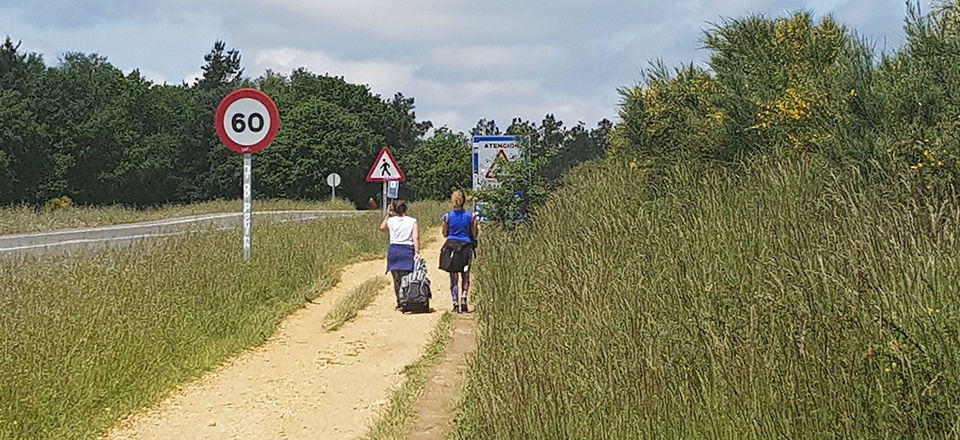 Then there was the young lady wearing headphones having her own karaoke party at the top of her voice.
It really does take all sorts. At this stage, I think I actually cracked up and said to Pat, "What next? Someone's going to come pass on a camel or an elephant or maybe a unicycle."
But if you're accepting that this stage of the Camino just tends to be a little different, not just because of the crowds, but because people are doing it with very different motivations, then you'll still have a great time. There's still time of course for someone to pass us on a unicycle.