We are almost at the 100 kilometer marker, if indeed there is one anymore. We just passed one with a 100.7 kilometers.
This will be the third time that I've passed this 100 kilometer marker, and it stirs up a number of emotions. What has this journey been about? What have a I learnt? What will change when we get home?
The last hundred kilometers almost always throws up some additional challenges, at least for me. Yesterday on the way to Sarria, I twisted my knee coming down the steep incline, and for a while thought the Camino was probably over.
But a night's rest, some knee bandages, and some strong Ibuprofen, seems to have gotten me back on my feet.
It's interesting how these last kilometers have changed a little bit, and it makes me think that everything happens for a reason on the Camino.
As we're walking in the rain with hardly any pilgrims around, I'm  following Pat who's walking in front of me. This is a bit of a change! I'm now the one trailing behind.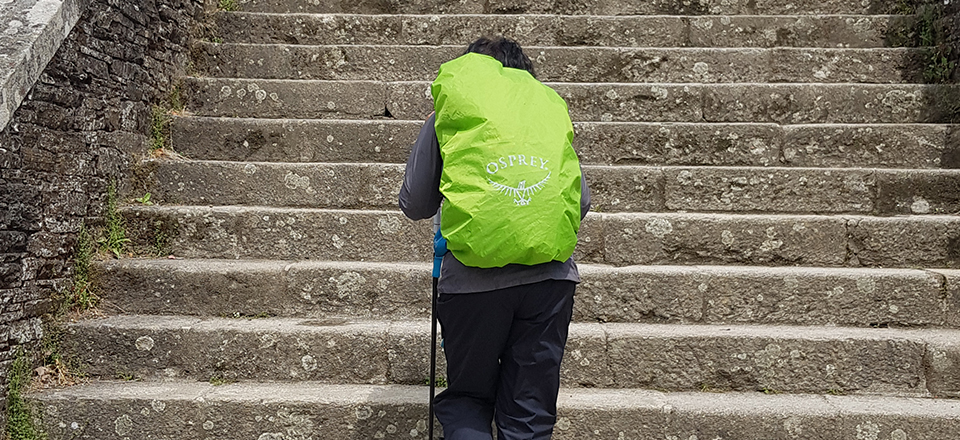 Occasionally, she'll turn around to check that I'm okay, and throw back a comment such as, "mind the slippery stones," "come down this side, it's safer," "make sure you use your poles on this hill."
How the roles have changed!
But it's interesting how the Camino can almost play tricks with you. There are always twists and turns and curved balls, and I think they're always there to help you learn a new lesson in life.
I'm sure we're going to make it in the final hundred, and we look forward to further lessons over the coming days.