Today we are walking along a flat section next to the road. Which tends to get me more into a meditation mood. Although it's not totally featureless, because after the right in a distance we've got some beautiful snowcapped mountains and all around us fields full of crops, and beautiful wildflowers.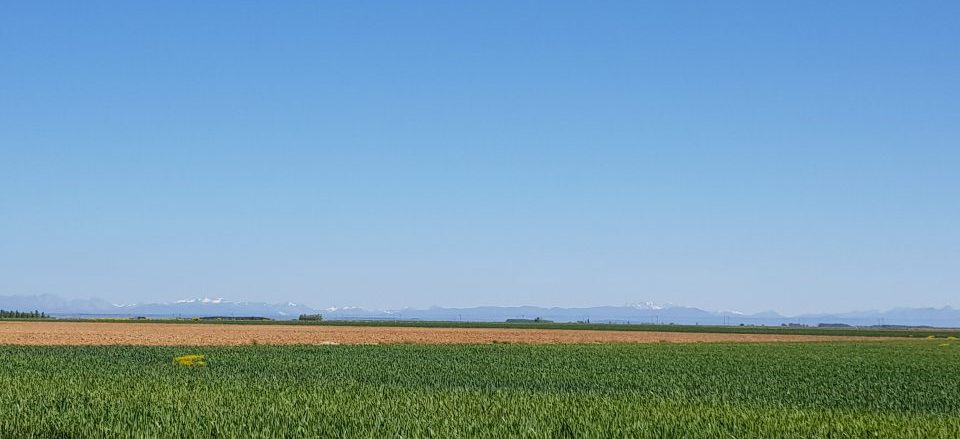 That the thing that is occupying my mind at the moment is a packing list!
We ended up bringing far too much gear on this Camino. And because of that because Pat can't carry very much weight at all given her foot injuries, we are actually sending bag ahead each day.
But its got me thinking about what I would pack for my next Camino, which would probably be a solo one. I'm not sure that Pat, while she enjoys walking in the Camino, would be prepared for another long distance one.
So if I think back to the packing list I've put together for this Camino, I was down to about 8 Kilos packing weight that included some Pat's gears in my pack.
Every day I look at the stuff that we're cutting along that we are just not using, and we already sent one package to either in Santiago.
So what would I cut out to get my pack weight even lower?
Well, I tend to like walking from late April. and that can be a little bit colder in the Pyrenees. and sometimes the evenings are a bit cool. So I did bring a fleece. But I've really only worn it a couple of times during the day and occasionally in the evening. I could easily make do with my rain jacket. Also, I have 3 Shirts with me I definitely only need two the same goes for underwear.
One of the things I found Invaluable though is our physio roller. It only weighs about 200 grams, but it's been fantastic for relieving the pain of shin splint. So I definitely would bring that next time.
The other new item that is been invaluable, is the trekking umbrella. We are using ones from a company called Euroschirm.
Those have been really valuable on the sunny days. and their small weight, I think they weigh about 200 grams, it's really offset by the reduced amount of water we have to carry.
So it would be interesting to have a look at my packing list when I get back it'll be ruthless in trimming it that would be great to get down to about a 6 Kilo pack excluding water.
The other thing that I've learned in this Camino is the use of a new water system. Which involves having two half-liter water bottles strapped onto the front straps of our backpack, and then use a drinking tube attached to one of them. I found that even on the warmest days come using our umbrella, we can really be caught easily do eight to ten kilometers on 1 liter of water. So that is a significant change from my first long Camino in 2015, where I've been carrying two to three liters of water a day. The maximum I've carried so far is two half-liter bottles each on a backpack strap and a spare half litter bottle each in my backpack.
Regarding how to attach the umbrellas.  Like this…